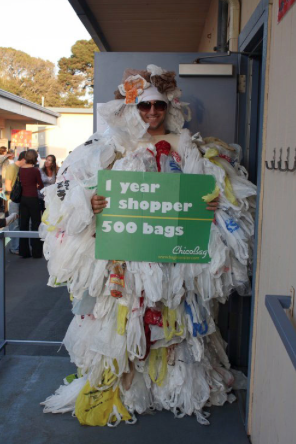 by Ashley Tedino
Halloween is right around the corner. While every year brings the sweet smell of apple cider and donuts and the sound of crunching leaves underfoot, this year is different. Because this year there will be lots of zombies wandering about the village. At least until Halloween is over and all of the collected candy is consumed!
Hudson Valley Zombie Apocalypse Crawl
Saturday October 25, 2014 5p
The first annual Zombie Apocalypse crawl is occupying Memorial Park. All zombies and zombie hunters are invited to join this crawl taking place right before the Halloween Parade. This crawl was organized by local ghost hunting celebrity Linda Zimmerman who is famously known for her HVZA (Hudson Valley Zombie Apocalypse) novels. All crawlers are asked to arrive at 4:30p and bring canned and non-perishable food items which will be donated to People to People. Memorial Park is located at Piermont Ave, Nyack. Visit CrawlOfTheDead.com for more information.
Say No to the Bag, Feed the Bag Monster Procession
Saturday October 25 5:30p
Nyack's own Maria Luisa is sponsoring a Say No to the Bag, Feed the Bag Monster Procession where the public is being asked to bring one-use disposable bags to the parade at Memorial Park and feed them to "The Bag Monster." At the parade, a Bag Beauty and a Bag Beast will be marching to support this campaign. The beauty will wearing a dress and the beast will be wearing a garment which will both be created from single use plastic bags (with help from you!) Bring your plastic bags to the parade and "feed them" to the bag beauty and the bag beast as they pass!
Witch Way 5K October 25
Saturday October 25 9a
Registration is now underway for the Oct 25 Witch Way at 9a. The race will start in Nyack Memorial Park and will benefit the Nyack Center. There will also be a kids 1k fun run in costume! Register online at RaceAwesome.com.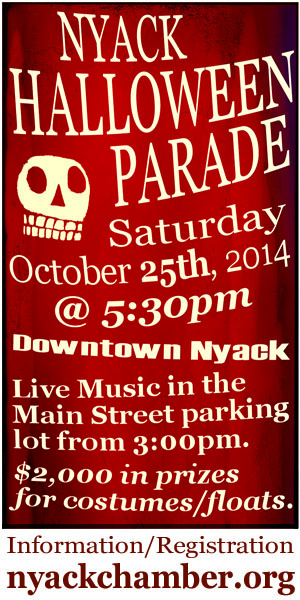 Nyack Halloween Parade 2014
Saturday Oct 25 at 5:30p
Our village is only second to The Village when it comes to putting on a zombified to-die-for Halloween Parade. This year's Nyack Halloween Parade will be held Saturday, Oct 25 at 5:30p. There's still time to enter a float or create an original costume: there's $2000 in prize money to be won! For details and registration forms, visit NyackChamber.org.
Monster Mash at the Nyack Center
Immediately after the Nyack Halloween Parade at about 6:30p families are invited to the Nyack Center will be for the eighth annual Monster Mash. It's a great and ghoulish place to eat up, boogie and take part in spooktacular activities! Live music with Danna Banana.