by Dave Zornow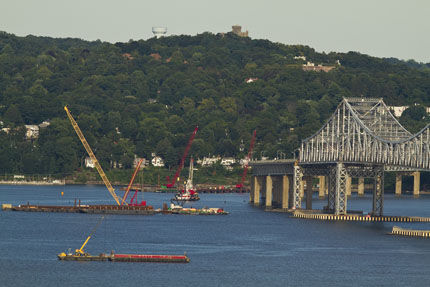 Nyack, Sept 17 — The US Environmental Protection Agency rebuked a Cuomo administration plan on Tuesday to fund Tappan Zee Bridge construction with a $511 million dollar loan from monies dedicated to clean water funds, saying that only $29.1 million qualified under EPA rules. Although this sounds like a setback, the governor's political strategists might be quietly cheering this development as it clears the way to pay for the new TZB with the proceeds from more than $4 billion in bank settlements coming to the New York State treasury.
Bridge construction costs are pegged at $3.9 billion with about 41 percent of the funding coming from a US Dept of Transportation loan. Cuomo was hoping to use a low/no-cost clean water loan from the Clean Water State Revolving Fund (CWSRF) to cover about 22 percent of the remaining costs. On Sept 16 the EPA nixed all but $29.1 million of that loan, which works out to only 1.3 percent of the remaining TZB construction expense. "Construction activities arising from transportation projects do not advance water quality, and CWSRF funding should not be used for these purposes," Joan Leary Matthews, the director of the EPA's Region 2 clean water division.
The defeat in DC sets up a "save the day" opportunity in Albany. Cuomo can now use the unexpected windfall from New York State's share of bank settlements to pay for Tappan Zee Bridge building. Now that all of the "conventional" funding sources have been explored and exhausted, the governor will be able to say, "I tried my best" before cracking open the piggy bank. (It's more than a little bit ironic that this piggy bank is funded by the penalties paid by real banks).
Those funds are somewhere north of $4 billion dollars (The Times Union said it was $4.2B on 8/17; The NY Post said it was closer to $5 billion on 8/20). That could pay for the new Tappan Zee Bridge with no toll increase — an unlikely scenario given that there will be many parties with their hands out looking for a piece of this very tasty financial and political pie. A more likely scenario is that Cuomo will use some of the bank settlement funds to reduce the new TZB tolls from the predicted $15+ to $12. It's still a steep hike from the $5 motorists now pay, but it's right in line with what drivers currently are currently charged to cross the Port Authority's George Washington Bridge. Don't be surprised if this plan also includes a small toll hike on the Thruway to spread the pain out evenly from Buffalo to Albany.
Albany's Times Union  made a compelling case for using the windfall to fund bridge construction as well as setting up an educational trust fund in an editorial on August 17.
It's a fitting solution for a way to pay for the new bridge. Fines and settlements resulting from the financial meltdown, which increased the gap between the 1% and the 99%, will be used to bridge the gap between Rockland and Westchester — as well as closing the gap between the infrastructure we need and the bridge tolls we are willing to pay.
See also:
Photo Credit: ©2014 Ray Wright