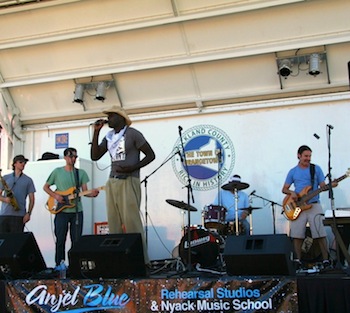 Fair temperatures in the mid-70's sunny skies provide the backdrop for 300 street vendors and five live bands at Nyack's 2014 SeptemberFest Street Fair on Sunday from 10a-5p. It's sponsored by The Chamber of Commerce of The Nyacks. Dogs are not allowed at Nyack's Street Fairs.
Sunday's Street Fair features live music courtesy of Nyack's own Anjel Blue Rehearsal Studios and The Nyack Music School. Come hear Louis Miller, Splash, Danielle Sheri, Monkey Jar and Our Fears.
Nyack's street fairs are known far and wide for their combination of merchandise for all tastes and pocketbooks, arts, crafts, food, entertainment and special goings-on in the Village of Nyack, NY. There's something that the fair for all of your senses include great eats from Greek, Jamaican, Polish and Italian vendors as well as home-made fudge, dipped pretzels and kettlecorn, too.
Up to 25,000 people are attracted to the Nyack street fairs, when Main Street and Broadway are closed to traffic, making it a pedestrian paradise. Stroll throughout the village's downtown and street fair booths.
See also: