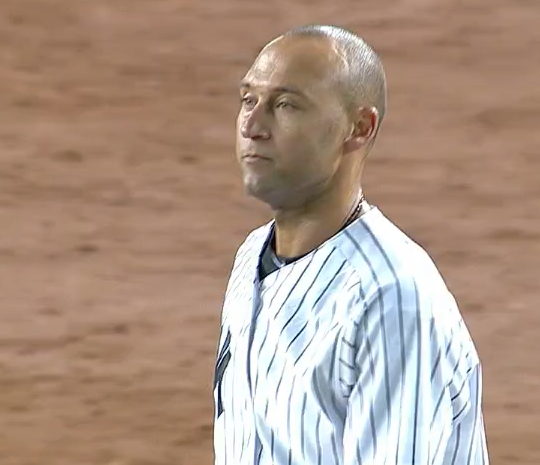 by Frank LoBuono
Generally, when it comes to so-called hero worship, I'm not given to hyperbole. In fact, I can be quite acerbic when it comes to elevating any individual to such lofty status. That label, hero, is far too often misplaced.  I may be described as having the prototypical New York indifference to such matters of little importance. We simply don't have the time.
Now, with that said, I have to add my voice to the tens of millions of others who are singing the praises of Derek Jeter. It is not everyday that any individual can bring a city, a nation, and people from around the world to their feet, much less a New York sports figure. But that's just what he did. For a brief, shinning moment, Derek Jeter embodied everything we hope that sports would be – wholesome, dramatic, and deeply emotional. A skinny kid from Kalamazoo, Michigan would, for twenty years, rule the greatest city on the planet. And on his final day in the Bronx, retiring after so many years, in his final at bat, in the bottom of the ninth of a tie game and with a man in scoring position in his final game at Yankee Stadium, he comes through with a yet another hit. YANKEES WIN! THEEEEEEEEEEEEEEE YANKEES WIN!!!! Yes, it's much better than a Hollywood script.
Some will still ask, why – he's just a baseball player? But, that would miss the point of sport and the role it plays not only in our culture, but in those around the world, as well. Like it not, sports are inseparable from everyday life – and that includes kids from the inner- city playing on a broken basketball hoop to those in rural Brazil kicking around a cloth soccer ball. Sport cannot be avoided. So, we tend to elevate our athletes to a lofty status and expect Herculean efforts from them on, and off, the field. It is often too much to ask and many fail miserably under the pressure. When you add trying to live up to this ideal in the most competitive market in the world for it's marquee franchise (as is Jeter's case), the pressure might be unbearable.
But, this is exactly what Derek Jeter did. He achieved remarkable success in his endeavors -all of them – on, and off, the field. He embodied the ideal of what we would want in not only a ballplayer, but a son, as well. And, he did it for a franchise and a city that DEMANDS excellence. Jeter did not disappoint. His statistics are excellent, if not the best of all time.
Certainly, two stand out. One is individual, and a testament to the man. The other is team oriented and gets to the real root of the issue. Jeter ranks 6th on the all-time list for most hits in the game of baseball. Think about it. I asked a sports producer how many men would he estimate have played the game of major league baseball? His response was about 50,000. So, Jeter was more "successful' than 49,993 of them. Phenomenal. But, perhaps, the second is more important because it gets to the heart of Jeter's and the NY Yankees' success. With Jeter as Captain of the team, the Yankees won five World Championships in his twenty years with the club. Five. Winning was as much Jeter as it is the Yankees as it is New York.
Look, it's no mistake the NY Yankees wear pinstriped uniforms. They were designed to mimic the look of a typical NY businessman going to work. THAT is what New York is about and what the New York Yankees are about – the business of successful baseball. They are inseparable. As is Derek Jeter. He went about his "business" with class and professional and never gave anything less than his absolute best. We all strive for that. Derek Jeter was lucky enough to apply it on the greatest stage in sport. And he did not fail. We New Yawka's like that.
Unfortunately, the Yankees, for the second year in a row, failed to make the playoffs. I think that Jeter would be the first to tell you how much that sucks. Fall is just SUPPOSED to have Jeter and the Yankees as part of it. It just doesn't feel right. But, somehow, we'll just have to find a way to live without both! In the meantime, rage on you crazy diamond. Rage on for a few more days. You've earned that. Yes, thank you god for making Derek Jeter a New York Yankee.
Frank LoBuono has lived in Nyack for over 30 years writing and covering Rockland County in print, on TV and online. He works as a cameraman and an editor for a major TV News organization. You can read his blog at Talk-Frank.blogspot.com.