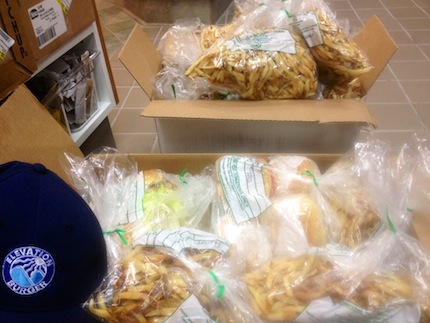 By Bill Batson
Elevation Burger donated 400 Meals to People to People in early September. The meals were created during staff training at Elevation Burger's newest location at the Palisades Center in West Nyack. Last week, People to People celebrated 25 years of fighting hunger in Rockland County.
Prior to the opening of each new location, Elevation Burger staff are expected to prepare each item on the menu several times over as part of the company's training program. Training manager Mark Gustus and lead trainer Taylor Avritt saw an opportunity to give back and avoid waste. Gustus and Avritt identified a local charity that could put the delicious and healthy food to good use. People to People, Rockland County's largest food pantry that provides assistance to thousands of households in the area, happily accepted the donation of more than 400 meals, which were distributed to needy people in the local community.
The owner of the new restaurant, Daniel Magnus divides his time between his other locations in Westchester County and the Palisades Center and was excited by the idea of making an impact in Rockland County. "Mark and Taylor brought me this idea about helping feed hungry people in Rockland County and I loved it. People to People was able to facilitate the distribution of meals to the people who needed them the most," Magnus said.
People to People is celebrating 25 years of fighting hunger in Rockland County.  To learn more, or contribute, visit peopletopeopleinc.org.