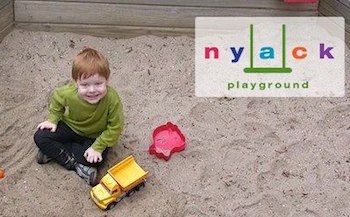 The Memorial Park playground will reopen on Saturday, September 20. A rededication ceremony with face painting, music, bubbles and free ice cream will take place between 11 and noon.  The group that is marshaling an ambitious campaign to further enhance Memorial Park, Nyack Park Conservancy's (NPC), will host an event to support those efforts at a Hudson River home from 5-7p later Saturday.
Nyack Park Conservancy has played the lead role in raising funds to reconstruct the playground in Memorial Park. The redesigned park includes swings, and a climbing structure, along with play areas specifically for toddlers and will eventually feature a new hill slide.
The group, made up of local volunteers, also works to support the on-going efforts of the "Nyack Needs a Skatepark" group to build a skate plaza in Memorial Park. NPC continues to work closely with the Village of Nyack and the Nyack Parks Commission to ensure the playground will be exciting, safe, and well maintained.
Nyack Park Conservancy continues to raise funds for other initiatives to enhance the park for all Nyack's residents and visitors.  Upcoming priorities include:
renovating the water feature
enhancing the natural landscape by supporting the Village of Nyack's native planting initiative
maintaining the rebuilt playspace to ensure families can enjoy the playground for years to come.
The cocktail party includes a live auction, live music, cocktails, and light fare.  This year's event is being held at a beautiful, contemporary home recently built on a lot in Upper Nyack that slopes down to the shores of the Hudson.
Tickets prices are $95 for an individual ticket and $195 an angel ticket that includes a special gift and ceremonial first slide down the new Memorial Park Playground Hill Slide! To purchase tickets visit nyackpark.org  Purchasing tickets in advance is strongly encouraged.
The event is catering by The 9W Market, with wine provided by Grape D'Vine and beer from Defiant Brewing Company.
The Nyack Parks Conservancy Inc. (NPC) is a charitable organization 501(c)(3), founded in 2005 by Mayor Jen White, dedicated to supporting the preservation and enhancement of Nyack's public spaces and parks, particularly its Hudson waterfront, as a vital natural and recreational resource for the Village of Nyack and its surrounding communities.
2014 NPC Board Members: Nancy Blaker Weber – President, Cynthia Costa Trahan – Treasurer, Elizabeth McGrory – Vice President, Ani Adishian, Sarah Anderson, Laurie Dodge, Greg Logiodice, Jeanine Maupin, Laura Kreeger Neil, Brent Osborne, Linie Rand, Eileen McCabe Sares, Jim Willcox