by Ben McCarthy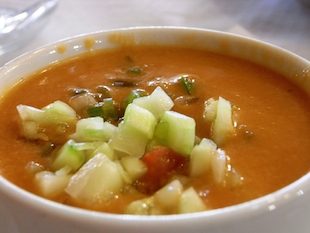 This week's recipe is the perfect end of summer meal, its quick and easy and requires no work with the stove or oven so you can keep the house and kitchen cool. If you're as stressed out as I am during this time of year, than you'll be happy to have this Gazpacho in the fridge.
Gazpacho is simple and refreshing and requires minimal time in the kitchen. This recipe is for a simple classic Gazpacho but you can riff on it and believe me, there are endless variations that are equally as delicious. Gazpacho itself is dish that has its roots in the Andalusia region of Southern Spain, it is also eaten in Portugal during the hot summer months. Essentially Gazpacho is a soup made from uncooked vegetables that is served chilled, it requires no cooking and very minimal culinary skill.
Here's my recipe for simple classic Gazpacho,
2 pounds of tomatoes
1 cucumber
1 bell pepper
2 slices of bread
1/4th of a cup olive oil
2 medium garlic cloves
2 tbs red wine vinegar
1 cup water
salt and pepper to taste
Garnish with a drizzle of olive oil and some coarsely ground black pepper
As far as making the actual dish all you really need to do is combine the ingredients in a food processor and blend until you get a consistency that you're happy with.
All of the above can be found at the Nyack and Piermont Farmers markets for relatively cheap. I find that farm fresh vegetables, especially tomatoes, make this Gazpacho even more delicious. If your only option is to swing by the store after work then thats fine as well, the Gazpacho will still be tasty and flavorful.
I don't recommend making this dish on a cold or rainy day, you're simply not going to enjoy it as much as you will on a hot, steamy one. With that being said, the next week promises to be blistering and this gazpacho will be the perfect treat.
Ben McCarthy is a junior at Hunter College studying pre-med and creative writing. He is also the lead guitarist in the alternative rock band Regret the Hour. He loves to cook and try new food and grew up cooking with his mother.
Photo Credit:  Wikipedia