by Sean Lynch
You're at a baseball game walking down the aisle to your seat. Loud cheers erupt from the crowd as the batter hits a double down the line. You find as you look around the park, it's not quite as large as a normal professional stadium. You realize that this game isn't taking place Yankee Stadium or even Citi Field, but in Rockland County at Provident Bank Park.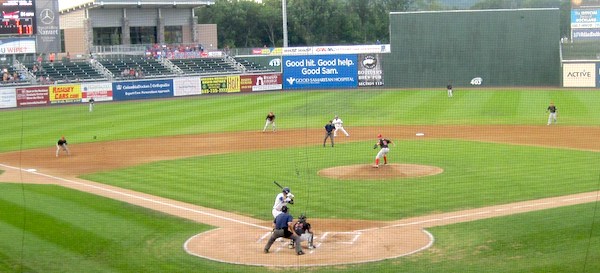 The Rockland Boulders have brought professional baseball to Rockland County comparable to single A baseball in the MiLB. The Boulders were founded in 2011 and have played in the Canadian American Baseball Association for the past four seasons.
Even if you aren't a fan baseball fan, minor league baseball is a great place to find reasonably priced family friendly fun that's only 20 minutes away from home. The Boulders offer many between innings promotions and give aways like the dizzy bat race and the Rockland Bakery food race. Hats, Christmas ornaments, and even themed bobble-heads are just a few things the Boulders have given to their fans.
Boulders' Aug/Sept Home Games:
| | |
| --- | --- |
| Aug | |
| 6 | Trois-Rivieres Aigles 11a *Camp Day |
| 10 | New Jersey Jackals 5p *Drawstring Backpack/ Pups at the Park / Baseball Bingo |
| 11 | New Jersey Jackals 7p *811 Dig Day |
| 15 | Quebec Les Capitals 5p *Volunteer Firefighter Night / Bobble-Head Giveaway / Fireworks |
| 16 | Quebec Les Capitals 6:30p *Breast Cancer Awareness / Pink in the park / Fireworks |
| 17 | Quebec Les Capitals 5a |
| 18 | Fargo-Moorhead RedHawks 7p |
| 19 | Fargo-Moorhead RedHawks 7p |
| 20 | Fargo-Moorhead RedHawks 7p |
| 29 | New Jersey Jackals 7p |
| 30 | New Jersey Jackals 6:30p |
| 31 | New Jersey Jackals 5p |
| Sept | |
| 1 | New Jersey Jackals 2p |
Playoffs- TBD
If there isn't enough action on the field for you, just look to the skies above Provident Bank Park on Thursdays and Fridays. Two home Boulders' games each week feature fireworks through the end of the season. Along with promotions like Thirsty Thursdays and $2 Beer nights on Fridays, the team's marketing strategy is designed to woo new fans and keep 'em coming after they've seen their first minor league baseball game in Rockland.
The Boulders are involved in the community. The team also offers internships and jobs to the mentally handicapped through the Rockland ARC. Hi-Tor Animal shelter has also run adoption shows for dogs before some select games.
You can even adopt a player (well, sort of). You can give a Boulder a home away from home in your house from May until September. Often the team gives back by supplying tickets to home games as well as other opportunities with the team.
Despite being only four years old, the Boulders averaged about 3,000 visitors a game last year in a park that can seat 4,750 and led the league in total season attendance (143,231). Last November, the four teams in the Can-Am League merged with the Association of Independent Professional Baseball and now play "inter-league" games with teams in the midwest like the Fargo-Moorhead RedHawks. As of Aug 6, the Boulders had a season wins/losses record of  37-30 (.552) and were in second place in the Can-Am league standings, a half a game behind the New Jersey Jackals.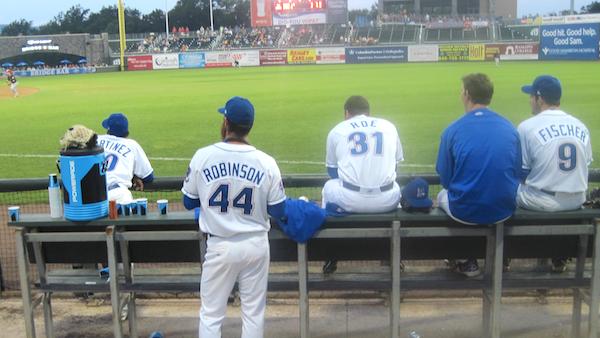 For a league full of young college kids and career minor leaguers, the Can-Am League has been graced with a diverse roster of talented players who are both rising stars and major league veterans. MLB stars like Jose Canseco, Howard Johnson, and 2003 AL Rookie of the Year Angel Berroa have all laced up their cleats the Can-Am league. If you look at some of the players in the National and American Leagues this year, you'll find many of them have played in independent baseball, including Craig Breslow and 2013 All Star Steve Delabar.
Back in the day, you could go see the Yankees, Mets, Dodgers or Giants without having to spend a fortune. The Boulders have brought back a little bit of that magic at reasonable family-friendly prices without the traffic and tolls of going to New York City. For ticket information, visit RocklandBoulders.com.
Nyack High School graduate Sean Lynch will be a Freshman at St.Bonaventure University studying journalism in September.
Photo Credit: ©2014 Sean Lynch