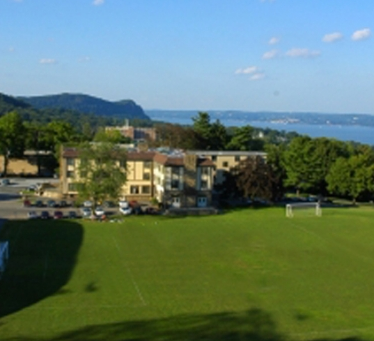 Nyack College has been named a "2014 Great College to Work For" by The Chronicle of Higher Education for the fourth consecutive year.  The college also received high marks in the areas of compensation and benefits, confidence in senior leadership, job satisfaction, respect and appreciation, supervisor and department chair relationship, work and life balance, and in a new category, professional development programs.
The Great Colleges program is one of the largest and most respected workplace recognition initiatives in our nation that showcases colleges for specific best practices and policies. Nearly 300 institutions were assessed and Nyack College was among the 92 that received the honor this year.
The distinction recognizes the efforts of  Nyack's current president, Dr. Michael G. Scales to acknowledge his academic and support staff.  Scales established an annual luncheon where service and special awards are presented to Nyack faculty . In addition to 5, 10, 15, 20, 25 or more service year awards, others include Online Educator of the Year, Faculty Award for Support of Information Literacy and Critical Thinking, Enrollment Services Associate of the Year, Student Financial Services Associate of the Year, Student Development Professional of the Year, and Athletics Coach of the Year.
After serving as a consultant for more than 50 college and university presidents during his career in higher education, Dr. Scales has not wavered in his appreciation for the men and women who serve as his support system and who are on the frontlines of delivering a quality education at Nyack College.
"I'm honored to have the privilege of serving with such extraordinary men and women, who not only excel in the areas in which they serve, but who go beyond the call of duty to serve the young men and women being educated and empowered for a lifestyle of servant leadership."
Nyack College was founded in 1882 by Dr. Albert Benjamin Simpson and currently serves more than 3,400 students in its undergraduate, graduate and doctoral degree programs. In addition to its suburban campus in Nyack, the college has a city campus in Manhattan's Battery Park, an extension site is located in San Juan, Puerto Rico.