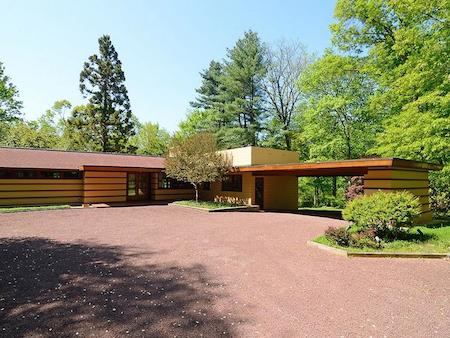 You don't have to travel across the country to see a house designed by the legendary American architect, Frank Lloyd Wright. But if your life's ambition was to own one of these fabled homes, you just missed your chance to buy a Wright house built near by Nyack..
The 1960 "Socrates Zaferiou House," a Wright prefab design produced by Marshall Erdman and Associates, can be found on Clausland Mountain Road overlooking Blauvelt State Park. The 4 bed, 3 bath, 2,619 sq ft house was listed for just under $800,000 last Spring — but Ellis Sotheby's International Realty now says that a sale on the property is pending.
Here are a few snippets of what people and publications have to say about this home:
This classic designed Wright home is considered a "Usonian" style and features a flat roof, open floor plan such that the living room/dining room – great room flows into the kitchen, an oversized fireplace which is the focal point of the living room, period kitchen and baths are pristine. The premise behind Frank Lloyd Wright's design is to be in harmony with the environment. Rows of glass doors and windows systematically allow the beauty of nature inside the dwelling. Geometric designs and patterns are repeated throughout the home. The home has been owned by one owner and is in excellent condition. Other appointments include a period style patio & planting areas, carport and full walkout basement with high ceilings. — SothebysRealty.com, zillow.com

---

Frank Lloyd Wright has put his stamp on some of the world's most famous and recognizable structures, including New York City's own Guggenheim Museum.

But did you know the prolific architect was also the forefather of a revolutionary style of residential housing that informed the airy, open floor plans seen in many modern homes today? Wright's Prairie style took hold in the Midwest during the early 20th-century and quickly spread across the country, profoundly influencing the built landscape we know today. If you've ever wanted to live in an iconic Wright home, this could be your chance: One of the few prefab Prairie homes designed by the architect has hit the market, and it's just a quick half-hour drive from Manhattan. there's also a connected living room and kitchen space with an over-sized fireplace and plenty of mid-century throwback touches like geometric designs and patterns. A period-style patio and planting areas sit outside, where there's plenty of greenery — the property is part of a 500-acre park on Clausland Mountain. The homes were meant to be sold for $15,000 back in the day. — Patty Lee, 6SqFt.com

---

One of eleven prefab homes in existence designed by Prairie School poobah, progenitor, and high priest Frank Lloyd Wright has hit the market for the first time ever at $795K. If the fact that Wright designed prefabs comes as a surprise, it's probably because of prefabricated construction's strong associations with retro-futuristic bubble houses, easy-assembly "glamping" shacks, artsy party barges, and other such flights of fancy, but Wright did in fact do a bit of prefab dabbling with developer Marshall Erdman, the Lithuanian-American builder that commissioned the First Unitarian Society of Madison from him in 1946. Wright discovered that Erdman was selling prefabs, and offered to design him a few models that could be offered for $15K, which was about half the price that Erdman was charging for some of his own. By spring of 1956, Wright had finalized plans for a trio of Usonian-style homes to be built exclusively by Marshall Erdman and Associates. This four-bedroom in Blauvelt, N.Y., known as the Socrates Zaferiou House, is based on the L-shaped, single-story model, nine of which were eventually built. — Spencer Peterson, curbed.com
Blauvelt isn't the only place in the Lower Hudson Valley where Wright left his mark. Usonia, a planned community near Pleasantville in Westchester County, includes three Wright homes: the Sol Friedman House, the Edward Serlin House and the Roland Reisley House.
See also:
Photo Credit: SothebysRealty.com