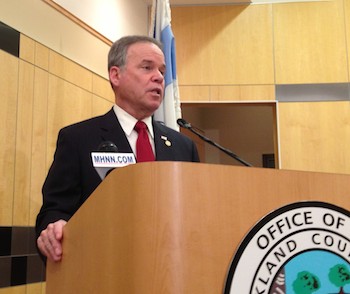 by Ed Day, Rockland County Executive
There's a lot of talk this summer about the performance of our Transport of Rockland (TOR) public bus system. Not all of it's positive. Complaints of lengthy delays, buses that don't show up and poor communication have flooded the county. I have personally received several emails in which passengers complained they had no idea what was happening with TOR service or for how long they'd be delayed getting to work. This is unacceptable.
My message today to TOR riders is crystal clear: this administration recognizes the problems we inherited and are working on immediate solutions with our capable vendor, Brega Transport Corp., to fix the issues.
As your county executive, I am obligated to ensure that our bus customers can count on TOR, Tappan ZEExpress (TZx) and TRIPS to take them where they want to go – safely, efficiently and reliably. Our bus network is an integral part of job growth and development in our communities. It is imperative that we work closely with Brega, our riders and transit advocates to deliver a dependable bus system that residents and businesses can trust.
In the coming years, Rockland County will replace a large portion of our bus fleet. Seventeen TOR buses from 2004 are scheduled to be replaced in 2016. Sixteen coach-style buses operating on the TZx system are slated to be replaced in 2017.
TOR is also preparing to receive four used buses from the transit agency that runs Albany's public bus system. The 40-footers were purchased at a deep discount and will serve as spares when others are pulled off the road for maintenance. These buses will give our transportation planners additional "wiggle room" when scheduling inspections and repairs. Due to needlessly time-consuming government procedures, the purchase and delivery of these new and second-hand buses has taken far too long!
To improve reliability in the near-term, TOR plans to temporarily transfer two TRIPS paratransit buses for use on TOR Loops 1 and 3. We also plan to assign TZx coach buses, on a limited basis, to the TOR #97 or #59 routes as needed. These changes will help to alleviate the overuse of several buses in our fleet, which have been carrying passengers – nearly around the clock – for months. This added capacity strategically placed on heavily-traveled routes will allow our transportation team to better ensure on-time performance and reduce or eliminate missed trips.
The challenges currently facing TOR are the result of a previous management approach that was not working. We have identified the problems and are taking corrective action. We will work every day to restore dependability to the system.
Your feedback has been (and, will continue to be) crucial to improving TOR. Through your phone calls, letters, emails and social media, my administration is listening and responding. Thank you for helping to identify deficiencies throughout the system.
Going forward, I will make certain riders get the level of service they deserve. Rockland County's 9,500 weekday TOR and TZx customers simply aren't getting what they pay for when it comes to bus service. This will change. You have my word.
Ed Day is the Rockland County Executive.