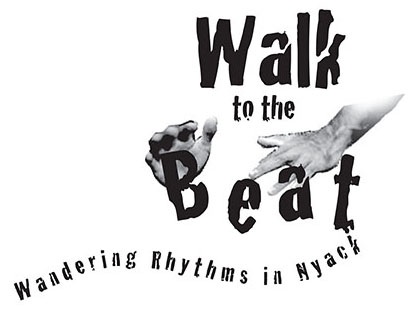 Here's a run down of what to do and where to do it this weekend.
Friday
As part of Nyack Jazz Week, local legend Sam Waymon performs at the Nyack Library, 59 S Broadway, Nyack from 7:30-9:30p. Tickets at rcjbs.org. 
Saturday
The Nyack Saturday Farmer's Market features local farmers, florists, vendors and artists from 8a-1p in the Main Street parking lot. Musical performances by Jesse Frayne from 8:30a until 11:30a and at noon rock-n-roll campers from School of Rock perform classic Judas Priest and Ozzy tunes.
The Walk to the Beat Festival hosts percussive music and dance at venues across the village from 11a-6p. There are also concerts at the Hopper House, Memorial Park gazebo, and Main Street gazebo.
Nyack Jazz Week, Bill O'Connell-piano Latin Jazz Allstars with Conrad Herwig- trombone, Ralph Bowen-tenor sax, Harvie S- bass, Richie Morales- drums at the Hudson House, 134 Main Street, 8 & 10p. Tickets at rcjbs.org.
Sunday
ETA featuring Stevan Swann, 6:30 – 8:30p Franklin St. Park, 90 Depot Place South Nyack. ETA is a band that consists of seven basic pieces:  male and female lead vocalists, keyboard, guitar, drum, bass, saxophone.
The Closing Night Party for Nyack Jazz Week features the Bob DeVos Organ Trio at the Turning Point Cafe,  7:30-10:30p, 468 Piermont Ave, Piermont.
Next Week:
Tuesday July 29, Mostly Music Concert Series: John & Vicki Forster bring their uniquely bent satirical songs to Memorial Park at 7:30p.

Thursday July 31 Hopper House Music in the Garden: Shirley Crabbe and Friends at 7:30p.

Thursday, July 31 at 6:30p Poetry in the Summer: Ramapough Poets and friends collaborate to perform the words and music of poetry at the Valley Cottage Library.
Get the Nyack Weekender in your mailbox auto-magically every Friday morning. Add your name to our mail list to get this weekly guide to weekend events — and no other mailers or solicitations. We promise! Visit our online sign-up sheet to subscribe.