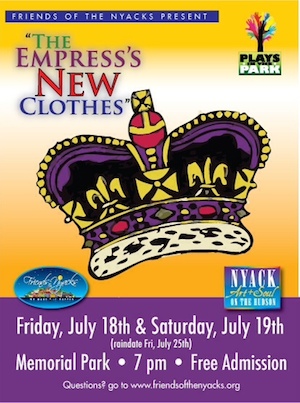 Here's a run down of what to do and where to do it this weekend.
Friday
Saturday
The Nyack Saturday Farmer's Market features local farmers, florists, vendors and artists from 8a-1p in the Main Street parking lot at S. Franklin in Nyack.
Sunday
Jazz vocalist Alicia Crowe performs a tribute to Ella Fitzgerald at the Elmwood Playhouse at 7p. Purchase tickets at ElmwoodPlayhouse.com or call 845-353-1313. 10 Park St, Nyack
Jazz Week opens on Sunday night at 7:30p in Piermont with the RCJBS All-Stars featuring Scott Wendholt- trumpet, Richard Sussman- piano, Cameron Brown-bass, Steve Johns-drums + Special Guest Rich Perry-tenor sax. Turning Point Café, 468 Piermont Ave.
It's Comedy Open Mike @ Olives in Nyack from 6-8pm. Hosted by Dana DiTrani. 118 Main St, Nyack
Next Week:
Get the Nyack Weekender in your mailbox auto-magically every Friday morning. Add your name to our mail list to get this weekly guide to weekend events — and no other mailers or solicitations. We promise! Visit our online sign-up sheet to subscribe.