The original goal of "Walk to the Beat" founders Anna de la Paz and Heather Cornell was to produce a percussive musical event in Nyack that would bring people to their feet. They were so stomping successful that Walk to the Beat goes on this Saturday, July 26.
Last year the entire village became part stage, part dance floor.  Wandering musicians, "pop-up" performances in front of restaurants and a community-wide jam session overlooking the Hudson at the end of the day—inspired some to run home and grab their instruments so they could join in the festivities.

De la Paz and Cornell have proudly managed to double the amount of musicians and the size of the event for the 2014 world music and dance festival. Last year the wandering musicians doubled as stage performers, but not this year. Now there are stage performers, wandering musicians, workshops, an open stage at the Nyack Center (be sure to bring your instruments), and so much more.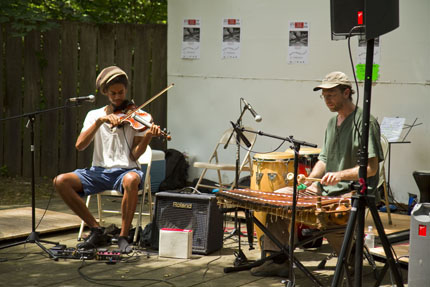 Walk to the Beat is free to the public and will bring world class percussive music and dance artists to venues and businesses throughout the village, including the gazebos in Memorial Park and Main Street, the Edward Hopper House garden and the Nyack Center.
The main stages will run from noon – 5 pm, workshops will happen from 11 am to 6 pm and will culminate in a huge jam session in Memorial Park where any and all can dance and play.  The festivities will then move to Casa del Sol on Main Street for an after-party with the producers' band, Making Music Dance.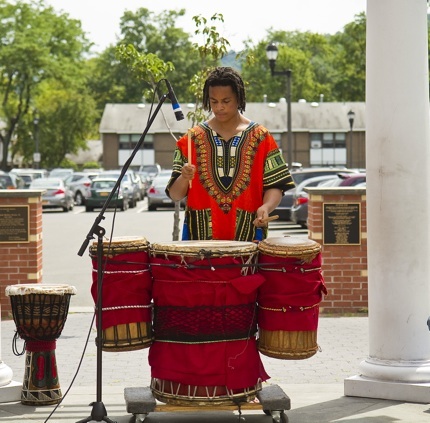 Cornell and de la Paz, are both internationally renowned performers who work extensively away from home.  They are committed to bringing excellent dance and music to the lower Hudson Valley through the excitement of participation, the freedom of improvisation and the magic of discovery.  

According to Cornell, "There are so many wonderful artists who make their homes in the county and many, though internationally renowned, don't have nearly enough opportunity to play at home."   

This year, the roster of local artists is foot tapping phenomenal:
Arthur Lorde and Motherland Rhythms and Dance are a dynamic group of African dancers and musicians who make their home in Spring Valley.
Ekklipse Steel Band is a multi-generational group of musicians with parents and children sharing the tradition of Jamaican music.
Pat Cannon, director of Foot and Fiddle Dance Company, from Sloatsburg, will be calling a huge square dance in Memorial Park.  She recently called a Square Dance in Bryant Park, NY for 700 participants.
Stephanie Cadman, one of the top Canadian fiddlers and practitioner of Ottawa Valley step dance;
Kakande, a group of African musicians left by balafon griot Famoro Diaboute; body-percussionist Max Pollak from Rumba Tap,
Piermont local Scott Simpson's drum ensemble and
Nyack's own Glenn Schloss of For Vibrations forms a classic drum circle.
Unique to this festival is band of wandering musicians who will be performing 5 minute sets in 12 designated local businesses throughout the day. This is a highly eclectic roster that includes flamenco, capoeira, tap dance, drummers and world musicians.  

Workshops will be held throughout the village.  Local musicians Lisa and David Karrer will be teaching families how to make their own instruments out of recycled materials, and then will lead the participants in a performance.  There will also be workshops outside and inside in body percussion, capoeira, balafon and drum circles.

Walk to the Beat is free to the public.
Visit walktothebeatnyack.com to see, learn and hear more.
Photos by Ray Wright.