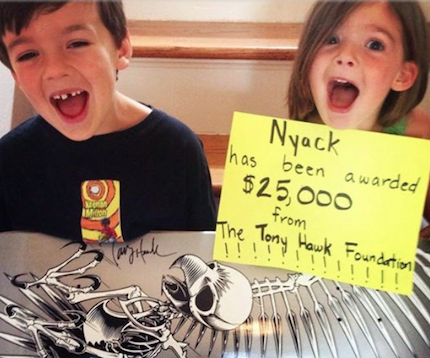 by Bill Demarest
Building on the momentum from their Misfits concert and fundraiser, organizers behind the effort to build a skateboard park at Nyack's Memorial Park recently received a $25,000 grant from the Tony Hawk Foundation.

Organizers hope that support form the organization created by skateboard icon will attract more funders.

"So many thanks to Tony Hawk. We promise you are going to LOVE visiting us!" Nyack Mayor Jen Laird-White said upon hearing the news.
While the project is sanctioned by the Village of Nyack and is technically under the village's control because it uses a public site in Memorial Park, no village funding is being used for the project. Skateboard park supporters are raising the funds – working with the Nyack Park Conservancy – to build the park, which is in the design stage.
Donations can be made to NyackNeedsASkatePark at nyackpark.org.  You must put "skate park" in the note section.
Bill Demarest blogs about news in Nyack and Rockland County at NyackFreePress.blogspot.com.