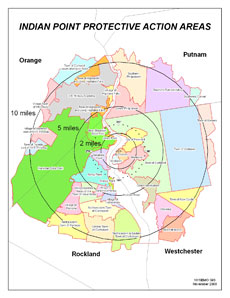 Indian Point will sound their sirens on Wed July 30 at 10:30a.  This sounding is only a test. No action by the public is necessary.
If there were an emergency at the nuclear power plants, the sirens would be sound continuously at full volume for four minutes, followed by an activation of the Emergency Alert System (EAS) on radio and television stations to broadcast important information and instructions.
The sirens are not a signal to evacuate, rather they are intended to alert the public to tune to this or another EAS radio or TV station for important information.
See also: