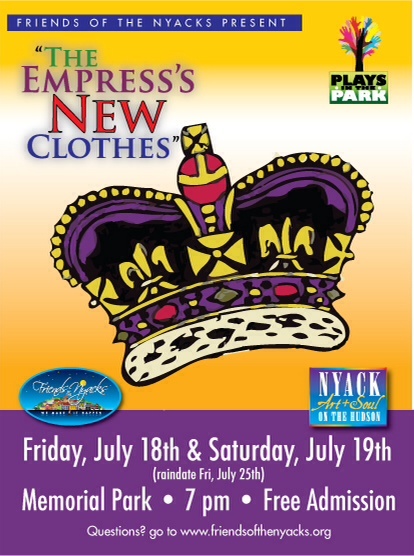 by Bonnie Timm
A new thread has been stitched into the fabric of one of Hans Christian Andersen's classic tales. The reimagined "Empress's New Clothes" will be staged on Friday and Saturday, July 18 & 19 at 7pm in Memorial Park. The free shows are presented by The Friends of the Nyacks as part of their Plays in the Park program.

Once upon this time, a vain Empress is searching for that special outfit that she can't seem to find. Suddenly, a couple of scoundrels, Robum Blind & Dewey Cheatum, show up and claim to be weavers that make a magic cloth. The Empress believes them but will you?  Is there such a thing as magical cloth? The only way to find out is to come to the show!
The show features a wonderful cast and rib-tickling jokes. 

Bring a blanket, bring a friend and be part of the Friends of the Nyacks 40th anniversary year!