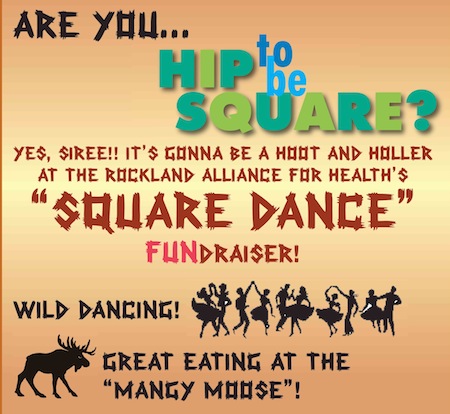 by Donna Schmidt
Are you hip enough to be square?
Get a little bit country while swinging your partner do-si-do on July 11 at at 7p in The Nyack Center. It's a night when hooting and hollering will be rolling out the windows for the Rockland Alliance for Health's HIP TO BE SQUARE fundraiser.
Follow along as a professional square dance caller calls the steps and direct your moves. All dances will be taught all night long, as you swing your partner round.
No partner? No problem. Square dancing calls for friendly groupings throughout the dances. Whether you come with friends or not, you might just make a few new ones. There's a place for even the shy, bashful and the poor souls suffering from two left feet!
Grab some grub at the Mangy Moose, sip drinks at the Two Whoops and a Holler donation bar, win prizes, listen to live country and western singing, and bid in the live auction, too.
For tickets and more information, visit HipToBeSquareTickets.EventBrite.com or call 845-263-6777.
Proceeds from the evening will benefit the Rockland Alliance for Health (RAH). This grassroots organization is a leader in prevention and promotion of public health interventions that result in sustainable changes in policy, practice and the environment. RAH offers various awards to community and faith-based organizations, worksites and schools. Grants have been awarded to Camp Venture, Campus Fun and Learn Child Development Center; Children of Mary Nursery/Kindergarten; Martin Luther King Multi-Purpose Center and Rockland Country Day School.