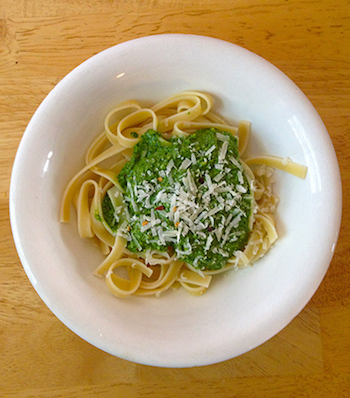 by Ben McCarthy
There are three things that I can't stand when it comes to food. The idea that good food is expensive–that you have to have a lot of money to enjoy it. The idea that good food takes hours to cook and finally, the idea that you have to be a culinary mastermind to cook good food.
Sure, all of these things are partial truths. Good food can be expensive, certain dishes can take a while to cook and some things take a fair amount of skill in the kitchen. But these examples are often the exception, not the rule. More often than not you can get good, fresh ingredients that don't break the bank. You can cook delicious food without wasting the entire day or even a quarter of the day. And you really don't need to be a CIA graduate to do so.
I had some leftover spinach in my fridge the other day and I decided to make a quick spinach pesto. If you've never had spinach pesto then you're in for a treat; its robust, flavorful and a nice full bodied alternative to a classic basil pesto. I made mine with almonds, parsley, garlic and parmesan cheese. You can substitute the almonds with walnuts or pine nuts (pignoli nuts as they are called in Italian) and the result will be fairly similar. I added some crushed red pepper flakes, which give a nice kick if you like spice.
The whole meal took me about 30 minutes to make. I used fettuccine for pasta as I think noodles bind to the pesto nicely, but any pasta will do. Instead of mixing all of the pasta with the pesto, I prefer to add a generous dollop of pesto to each serving; this keeps the pesto tasting fresh. You can also use leftover pesto as a dip with crunchy Italian or french bread, or even use it as a spread for sandwiches. Here is the recipe, read it through before you start. It helps to have your ingredients prepped and ready to go before you start cooking.
Ingredients:
1 small bunch of spinach washed well and stemmed
1/4th of a cup nuts of your choice (almonds, walnuts, or pine nuts) toasted lightly
2-3 garlic cloves (depending on how garlicky you want your pesto)
1-2 tablespoons olive oil
1/4th-1/2th of a cup fresh parsley
1/4th of a cup fresh grated parmesan cheese
Salt and pepper to taste
Crushed red pepper flakes (if you like spice)
Most of these ingredients can be found at any local store or farmers market and are relatively inexpensive. You're not going to spend $20 bucks buying this stuff. Don't buy pre-bagged or washed spinach, it's just not the same and not nearly as fresh (you also run the risk of getting E. Coli if you don't wash that pre-bagged stuff). The Nyack Farmers Market (Thursdays and Saturdays thru Thanksgiving) has great greens that are phenomenally fresh and inexpensive.
Finally, don't be afraid to play around with the amounts of the ingredients, and be sure to taste, taste, taste before you serve. Cooking is a continuous process of tasting and adjusting. If your pesto tastes like it needs more garlic, add more garlic. If it tastes like it needs more cheese, add more cheese, etc. These are low estimates as you cannot remove cheese or salt after you've mixed them in a food processor. Don't be afraid to add more of something. It's the only way you'll learn to start cooking on your own.
Directions:
Fill a large kettle about 3/4ths of the way full with water and put on the stove on high heat.
While you're waiting for your pasta water to boil put all the previously mentioned ingredients into a food processor and blend until you get a rich paste. Taste this paste a few times to make sure it doesn't need more of something. If it needs something add it, if it doesn't transfer the pesto to a jar to store it.
When the pasta water boils add a pinch or two of salt and then add your pasta.
Once the pasta is done, strain it and add it to bowls.
In each bowl of pasta add a dollop of pesto (however much you like), grate a little coarse Parmesan cheese over each bowl and serve.
Leftovers? No problem. Pesto will keep in a sealed jar in the refrigerator.
You don't need to have much if any prior knowledge to cook these dishes. I don't, I've learned to cook from cooking with my mother since I was little and experimenting for myself. With the exception of a cooking class I took in Chiang Mai Thailand I have no formal training. It goes without saying, I've ruined my fair share of dishes; burned meat while grilling, overcooked pasta, over-seasoned Pad Thai. Cooking is a learning process and it takes practice. Despite all that, I know I like anyone else, can cook some pretty damn good food. My point is with some practice, you can do the same.
Ben McCarthy is a junior at Hunter College studying pre-med and creative writing. He is also the lead guitarist in alternative rock band Regret the Hour. He loves to cook and try new food and grew up cooking with his mother.