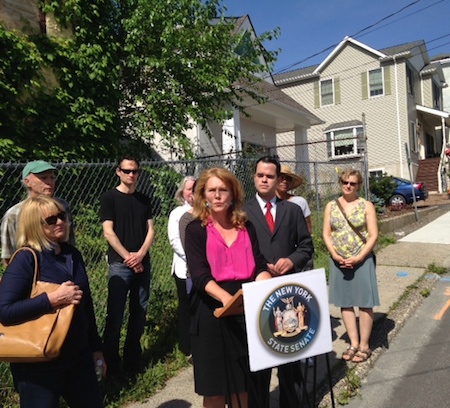 by Dave Zornow
They exist among us as scary eyesores that haunt our neighborhoods. In Nyack, there were 17 of them, but due to the efforts of some dedicated and persistent neighbors, now there are only 12 left. However, some estimates count as many as 15,000 of them across New York State.
These zombies don't walk among us but they do reside in our neighborhoods.  Last Monday, NYS Senator David Carlucci and Nyack Mayor Jen White held a press conference to highlight the problem of abandoned properties and promote legislation that will help communities address the issue.
"We have four houses in our 3 by 6 block neighborhood," says Julie Agoos, leader of a Nyack group that has been working with the village to get abandoned property owners to do some basic property maintenance. A "zombie property" is considered abandoned when its owner stops maintaining their home or business and falls behind on mortgage payments,  receives a notice of arrears or a foreclosure notice. They hurt property values and often create health and safety concerns, too.
The Abandoned Property Neighborhood Relief Act, supported by Carlucci and co-sponsored by Rockland County's NYS Assembly Members Ellen Jaffee and Kenneth Zebrowski, will hold banks and other lending institutions accountable for these zombie properties. "Here in Nyack we have said 'enough is enough.' We are going to break through the status quo to end this blight on our community," said Carlucci. "We are supporting legislation to deal with zombie properties, to create a database of all of the abandoned homes and their deed holders," he said.
"There's one abandoned house in our neighborhood that was attracting squatters, rodents, animals, had trees falling down and the weeds were taking over. It was a real eyesore," says Tom Morrison, a member of Agoos's group. "It was posted for unsafe conditions by both the village and the Rockland County Health Department. But no one seemed to know who the owner was and who was supposed to be in control." Morrison said he searched the property's land records and the tax records and discovered that the former owner was in a nursing home in Haverstraw. "But they didn't want to give me the time of day to find out if there was a way to make a deal that would satisfy the owner, the creditors, and the community," said Morrison.
The legislation, if it passed by the Assembly and Senate and signed by the governor, would create a central database for properties that meet the "abandoned" definition.  The proposed law specifies that a residential property is "vacant and abandoned" when three or more monthly mortgage payments have been missed, the owner tells their bank that they will be vacating the property or if a state or local governmental entity declares that the abandoned property is a risk to the public's health and safety.
Nyack Mayor Jen White said the law will help communities with limited resources track down owners of decrepit properties. "When I called Senator Carlucci with our concerns about these zombie properties, he could not have been more responsive," she said. "At less than one square mile, Nyack is a tiny place and we've made some progress, but getting them off the list has been an epic lift." White noted that the village's Building Department regularly calls the banks that hold the deed for Zombie properties — but lenders haven't been very responsive. "In the case of the John Green House [at the foot of Main Street in Nyack], our village attorney had to sue the bank to get appropriate levels of maintenance." White says that case was thrown out of court, forcing the village to maintain the property with its own DPW staff.

Carlucci says that the Abandoned Property Neighborhood Relief Act makes provisions for tenants who are living in homes that a landlord has abandoned. "People who are living in these homes need to know they don't have to move out until the bank has foreclosed on that property," he said. "It needs to be stipulated so people know their rights as a tenant." Additionally, Carlucci says the new law will make it easier to find banks that won't cooperate.
Not everyone is a fan of the legislation — especially those who track zombies as a hobby — like blogger Joshua Warren, author of ZombieLaw.wordpress.com.
Personally, I am skeptical of the effectiveness of this program and still wonder what about about the homeowners who haven't abandoned but are still trying to work with their bank? They still need help too! Where's the legislation to require loan modification, reductions of interest rate to current market and principal reductions. This is what TARP should have done, but instead it bailed out a few big banks and (re)insurance companies. Where is the help for the common zombie!?

Schneiderman's plan to make banks responsible for empty homes is laudable, but it doesn't go far enough. The banks must be held more responsible for their role in the real estate induced CDO crisis. It's going to happen again because they got away with it the first time.

Also, it is noted that the banks will sometimes stop the foreclosure process in order to not take possession of the property. Do they simply not want to take the costs of possession because the property is so far underwater that it can't be sold (even for a tax write-off in these years of profit?!), or is it that they can't?

Is it that they bank's mortgage note was mishandled, lost, destroyed, improperly robo-signed? Could the Attorney General force a mandatory audit and disclosure by the banks of all the properties that are encumbered with questionably void notes. Maybe that is already disclosed somewhere(?) but I suspect is is not. How often do banks need to audit the condition of their mortgage notes until there is an actual foreclosure process fight over the quality of that note and the need to dig it out of storage for production. If the banks records aren't prepared to be able to actually find the correct paperwork then maybe they can't foreclosure?

Can the AG force the banks to audit their records and disclose which secured mortgage notes are currently in this questionable improperly robot-collateralized condition and that they may never be able to foreclose? They wouldn't want to admit it, they are perhaps still gambling that some irregularities of the boom are never unveiled. They might pay the ongoing fines and hope to eventually short-sell out of the situation. But why not short-sell to the original buyer, perhaps with significant government backing. Use government low interest rate money to put the original homeowners back in their properties at reduced rates.

This list of vacated homes and billing the banks for maintenance is a good start to forcing the banks to serious negotiation, but where is the original homeowner? Can't we get them back in their house? Bring the zombies home!
See also: