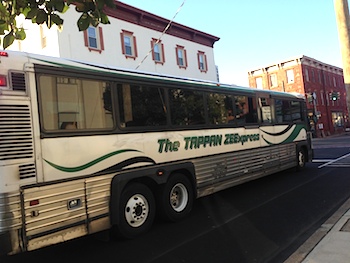 Nyack June 13 — New bus fares will take effect for TZx and TOR buses next week. If you are used to paying cash, this won't change what you pay to ride the bus. However, TOR and TZx Transfers, Reduced Fare Transfers and Reduced Cash Fare will all see minor increases beginning on June 15.
TAPPAN ZEExpress (TZx)
Cash Fare for TZx will remain at $3
Transfers for TZx will be $1
Reduced Cash Fare for TZx will be $1.50
Reduced Fare Transfers for TZx will be 50¢
Transport of Rockland (TOR)
Cash Fare for TOR will remain at $2
Transfers for TOR will be $1
Reduced Cash Fare for TOR will be $1
Reduced Fare Transfers for TOR will be 50¢
SuperSaver Tickets will continue to be sold and will remain valid on TOR and TZx until further notice. Later this year, TOR and TZx EzSaver Passes will gradually replace paper SuperSaver tickets on TOR and TZx buses.
TOR, TZx, Clarkstown MiniTrans, Spring Valley Jitney, OWL buses, I-Bus and Bee-Line buses will continue to cross-honor Transfers. Medicare cards will still be accepted as proof of eligibility for the Reduced Fare program. Riders eligible for Reduced Fare may also apply for a Reduced Fare Photo ID Card at the Public Transportation Department at the Dr. Robert L. Yeager Health Center, Building T, Pomona.
TRIPS Paratransit will also see the following changes
Cash Fare for Regular TRIPS will be $3 per ride
Cash Fare for ADA TRIPS will be $3 per ride
A Book of 10 TRIPS Tickets will cost $25 (providing for a volume-discounted fare of $2.50 per ride.)
TRIPS Tickets will be valid for both Regular TRIPS and ADA TRIPS. Current TRIPS Tickets will be accepted onboard TRIPS buses until August 31, 2014.
In August, the TZx UniTicket will  increase. The bus portion of the TZx bus/Metro-North train UniTicket will increase to $20 for weekly passes and $60 for monthly purchases. UniTickets are sold by MTA Metro-North Railroad. Metro-North has advised that the TZx UniTicket fares will increase with the purchase of August tickets (rather than July, as previously announced). The bus portion of the UniTicket fare has not increased since 2009.
Other new electronic fares will become effective later this year, including a 7-Day Unlimited TOR E-Pass, a 30-day Unlimited TZx E-Pass and a College Student Unlimited Semester E-Pass.
For more information, visit RocklandBus.com or call (845) 364-3333. For a simplified online bus schedule of the Tappan Zee Express from Nyack to Tarrytown and Grand Central, visit tzxBus.com.