Farmers' Market fans will have Saturday Nyack Fever starting June 7 from 8a-1p. The Nyack Chamber of Commerce is bringing local farmers and specialty food producers to the village on Saturdays in addition to each Thursday through Thanksgiving.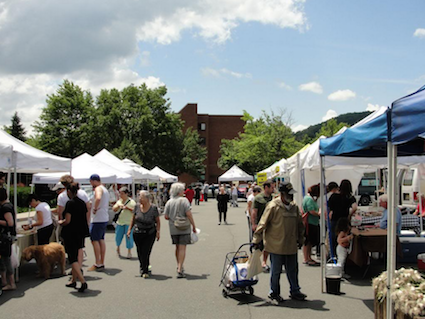 The Saturday Farmers' Market in  will be staged in the municipal parking lot on Main Street between Franklin and Artopee at the center of the Nyack. Live entertainment and fun for kids will be weekly market staples. Free parking during market hours will be available in the Artopee lot next to the market.
SNAP food stamp recipients will now be able to use their EBT cards at the Nyack Farmers' Market.
The Nyack's Farmers' market is now in its 17th year. Two years ago, a Winter Edition of the market was added inside the Nyack Center in addition to the Spring-Fall outdoor market each Thursday. "There's increased demand for foods provided by local, eco-friendly farmers, artisans and producers," said Scott Baird, Nyack Chamber President.
There will be a formal ribbon-cutting at 11a presided over by Nyack Mayor Jen Laird-White, Village Trustee Louise Parker, New York State Assemblywoman Ellen Jaffee and Orangetown Supervisor Andy Stewart.
The Saturday market will feature 20 vendors selling fresh cut flowers, free-range eggs, fresh pies and baked goods, honey and maple syrup, specialty teas, artisanal soaps and local wines.  For Farmer's Market friends who arrive on four feet, there will be homemade gourmet dog treats every week.
The Saturday edition of the Nyack Farmer's Market is a welcomed option for people who commute and can't get out during the week. The Nyack market complements the Saturday Farmers' Markets in Tarrytown and Suffern and the Sunday Farmers' Market in Piermont.
Both the Thursday and Saturday markets will now accept SNAP EBT cards to purchase tokens that will be accepted as cash for market purchases. In addition,  some individual vendors continue to accept other federal and state-sponsored benefits, such as Women, Infants and Children (WIC) benefits. "For food stamp customers, their benefits can go farther at the Farmers' Markets than they may have thought," said Diane Eggert, Executive Director of the Farmers Market Federation of New York. "Not only are they able to purchase farm-fresh food and specialty products, they have access to vendors and farmers who are ready and willing to share advice, tips and recipes."
Opening Day includes performances by Guitar Magician Jeff Doctorow, appearing with Old No. 7 Band colleagues Lorena Mann on vocals and Jim Kimack on saxes. Folk singer Jesse Frayne will also perform and Bossy Frog will entertain the kids.  Jamie "Jamie Faces" Gaviola will paint faces and Sarah "Silly Pencil" Macy will create caricatures, too. If the fresh air and fresh produce don't relieve the stress from your busy work week, Michelle Solomon of Massage Therapeutics will be on hand to work out the knots in your neck and back.
Shop Healthy: SNAP To The Market
According to the USDA, accepting SNAP food stamp EBT cards at Farmers' Markets is a win-win-win situation. It provides direct access for merchants to new customers, gives SNAP recipients access to healthy food, and encourages consumption of locally-grown produce.
Nyack Farmers' Market Manager Pam Moskowitz agrees. "This is a win-win opportunity for everyone involved. Food stamp customers have access to the freshest, healthiest produce and products our area has to offer," she says.
[full][half flow="start"]Aunt Vicky's Bickys — homemade gourmet dog treats
Bill Batson Arts, LTD — Nyack cards, prints and original art
Blue Lotus Botanicals – skin care products, including soap, whipped shea butter, muscle rub, body powder
Cactus Pete's Homemade Jerky — Beef Jerky from grass fed beef
Clean Ridge Soap Company — bar soap, liquid soap, shampoo, lotion, soy candles, diffusers, diffuser oil, lip balm
Cropsey Community Farm, a project of Rockland Farm Alliance — biodynamically grown produce, ground flour, dried beans
Gajeski Produce — large variety of seasonal produce
Green Meadow Waldorf School (S) – Rockland County's only Waldorf School; located in Chestnut Ridge
Green Mountain Energy Company (S) – retailer of cleaner energy
Hummingbird Ranch — honey & related products, maple syrup, beeswax products (skin cream, lip balm, candles)[/half]
[half flow="end"]Jordan Brenner's Sauces & Spices — maple mango sauce, strawberry sauce, garlic lime sauce, sing splash, spice blend, pretzels
Kiernan Farm — all cuts of grass fed Beef, all cuts of farm raised pork
The Little Flower Shop of Nyack — flowers
Meredith's Country Bakery — fresh baked pies and breads, quiche, muffins, cookies, brownies, tarts, scones, biscotti
Mostly Myrtle's Biskookys — gluten free biscotti, muffins cup cakes,graham crackers, brownies; small batch coffee
The Orchards of Cocklin — fruit, produce, eggs, pies, cookies, honey, seasonal plants
Pie Lady & Son — homemade pies and cookies
R&G Produce — farm fresh produce
Southtown Farms — Organic feed chickens and eggs
Teagevity — organic loose tea, herbs & tea gear
Warwick Valley Winery — wine, hard cider, dessert cordials, liqueur, apple jack spirits[/half] [/full]