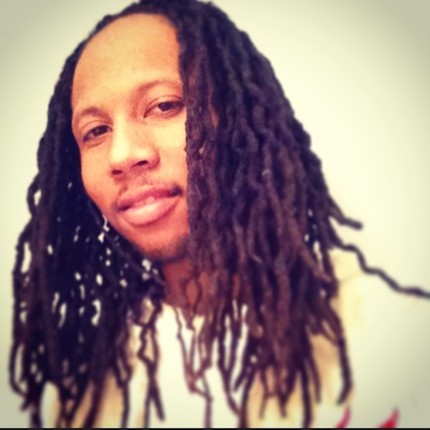 by Nancy Eisen
The hip-hop music entrepreneur and advocate for adults with special needs has left the village. During Marqui Julien's short stay he created "I Love Nyack," a YouTube music video seen almost  20,000 times. He still loves Nyack, but found he couldn't afford to live here.

In 2009, a young man with swinging dreadlocks and a loving soul moved to Nyack, NY to take a job at Camp Jawonio working with special needs adults. Marqui Julien grew up in South Central Los Angeles, but frequently came to visit his uncle, a basketball player for Nyack College. He soon fell in love with the Lower Hudson Valley village and embraced the relative calm of its community compared to where he grew up in South Central Los Angeles. He had moved from a city where random street shootings were the norm to a village where occasional Street Fairs were an inconvenience.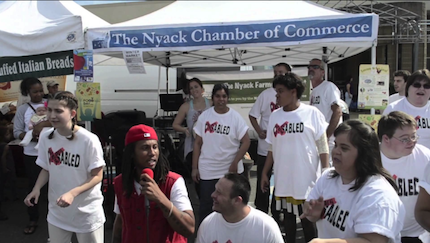 Camp Jawonio, a program that works with special needs adults, was a perfect fit for Marqui. Although the salary was modest, he brought passion and experience to work each day having grown up an autistic brother.
When Marqui wasn't at work, he was on the streets of Nyack or in one of the local bars playing music. He was heavily influenced by his grandfather who owned a series of old cars. "He would play his Jazz, lower his fedora hat, smoke his cigarette and aimlessly drive," said Marqui. To honor his grandfather, Marqui saved up and bought an old Cadillac and a fedora from Target.
His music got him noticed — his car and haberdashery choices made him easy to remember. Soon he was busy performing, absorbing acceptance and adoration for who he was and what he was doing. On Thursday nights he would attract crowds of 100 or more at the now-closed Old Fashion restaurant on South Broadway. "I got to live out my dreams while bringing to life dreams of others by including them in the community. What better place than Nyack?"  It seemed his life had been blessed.
During this time Marqui wrote the music and starred in the video "I Love Nyack," an expression of his irrepressible enthusiasm for the new life he found in a village on the Hudson River. Produced by the Royal T Music label, it has been seen almost 20,000 times on YouTube — not bad for a community where only 6500 people live. His creative credits also include the first draft of "I Am Abled," a music video about special needs adults.
In addition to finding a job, a supportive community and a place to produce and create, Marqui also found a bride in Nyack, too. On Friday November 2, 2012, Marqui and Antonia warmed everyone's hearts on a cold, windy, powerless, post-Sandy day, with an outdoor wedding on the steps of Nyack's Village Hall. "They are the most optimistic young people and I thank them for providing a moment of peace in the middle of the chaos after this storm," said Nyack Mayor Jen White.
In October 2012, Marqui had hit his stride. He had a good job, had recently married and was living in a one-bedroom apartment on High Avenue in Nyack. Then three unexpected events occurred which changed his life in Nyack — and eventually forced him to leave his adopted home town.
Antonia was laid off from her job at about the same time that his they found out she was expecting. They also learned they would need to find a new place to start their family because their landlord decided to sell the house in where Marqui and Antonia had been living.
Marqui's take home pay of only $400 a week proved to be too little to find a suitable to live and too much to qualify for public assistance. Marqui scoured Craigslist night and day looking for a place for the couple to live.
Show Marqui And Family Some Love
Marqui and Antonia  would like to return to Nyack with their daughter, Marlena. If you know about any affordable housing or employement opportunities for Marqui or Antonia, you can contact them at info@NyackNewsAndViews.com.
Postings for rooms and studios often wanted only single occupancy. "My optimism quickly faded," Marqui said when he discovered that the safety net in a community he had grown to love had gaping holes in it — and he was falling through all of them. Having exhausted their housing options, Marqui and his wife packed up and moved back to Los Angeles.
He loved working at Jawonio. His dream was to bring his brother to Nyack so he could attend the Nyack Studio Arts program there. "Many time things in our lives don't go according to plan," he said, emphasizing the point that he is not bitter, but still wishes for a chance to come back here. To have opportunity and hope for his family, because Nyack "enhanced my outlook on life as a man. I made a transformation like a caterpillar turning into a butterfly." He continued, "I matured into a man during my stay in Rockland.  I am forever grateful for that."
He misses the teens from the high school he would see in town, the random conversations that happened walking around town or just bumping into the mayor while taking a stroll. He misses "his guys" at Jawonio, the street fairs, the Farmer's Market and live music on Main Street. "All of that is gone," he said, "it's forever etched in my mind. Now all I have left are the memories." Memories of a magical kid with dreams reaching to the stars, never once doubting that his dream would come true.