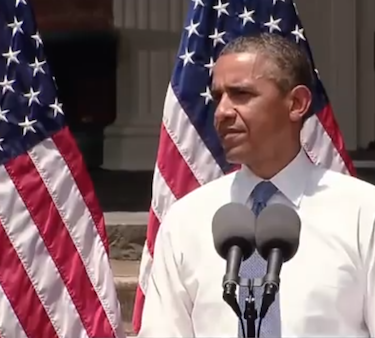 by Dave Zornow
Nyack, May 14 — President Barack Obama's scheduled address today, posing in front of the Tappan Zee Bridge construction site, is being interpreted differently by different groups.
Republicans see it as a sly poke in the eye because POTUS' visit coincides with the first day of their state convention in Rye Brook where Westchester County Executive Rob Astorino is expected to get the GOP gubernatorial nomination to challenge Governor Andrew Cuomo in November. Commuters view it as an un-welcomed inconvenience because the security arrangements required for the leader of the free world will disrupt their usual parking arrangements at the Metro North Train Station. And South Nyack residents say it's a further insult to injury because the president isn't taking his motorcade across the Hudson to personally hear about how difficult it will be for them to park in front of their homes after a new bike path opens on the replacement TZB in 2018.
In reality, it isn't about any of that. "The President Delivers Remarks on Infrastructure" is a photo opp in front of the biggest bridge construction project in the country to get the attention of Congress about funding transportation infrastructure projects for which monies are expected to run out this summer. The Highway Trust Fund, which gets most of its revenue from the federal gas tax, will soon run out of money, halting construction projects across the country and laying off several hundred thousands construction workers. "As soon as August, the Highway Trust Fund — the account that pays for building and repairing our nation's roads — will start bouncing checks," said Transportation Secretary Anthony Foxx. "Unless Congress acts, up to 700,000 Americans will lose their jobs over the next year in road work, bridge-building, transit maintenance."
Which brings us back to the photo opp scheduled for Wednesday afternoon. Despite the efforts of partisans on both sides to spin Obama's message, his visit to Tarrytown is just a metaphor for the real problem. The temporary gridlock today in Tarrytown and on the TZB is just a reminder of what the President of The United States has to do to overcome the permanent gridlock every day on Capitol Hill.
Transportation Secretary Anthony Foxx statement on the Highway Trust Fund
I'd like to be here celebrating all the work that's happening around our country to renew and reinvigorate our nation's transportation networks.  Unfortunately, however, this may be the more dire moment the American transportation system has faced in decades.  As soon as August, the Highway Trust Fund — the account that pays for building and repairing our nation's roads — will start bouncing checks.  Unless Congress acts, up to 700,000 Americans will lose their jobs over the next year in road work, bridge-building, transit maintenance.
All of these types of projects may be delayed or shut down completely — which means freight won't move, which means trade will slow, which means businesses won't hire.  And, by the way, your morning commute will be longer because the roads you're driving on will crumble and no one will show up to fix them.
We're already starting to see it happen.  In Nashville, Tennessee, four bridges carrying 130,000 vehicles a day — they've reached the end of their useful life.  And one of them has been shut down three times since last summer because concrete keeps crumbling onto the underpass, threatening cars below.
We have an infrastructure deficit in this country.  We've been saying that for months now.  And according to the American Society of Civil Engineers, we need $3.6 trillion in investment — that's an all-in number that includes things other than transportation.  But we need $3.6 trillion of investment by the time our decade is through in order to raise it to an appropriate level.  Now, that's an all-in number, as I said — but the thing is our infrastructure deficit is only going to get worse without action.
We cannot meet the needs of a growing country and a growing economy by simply maintaining our current level of effort.  We must do more.  Over the next generation, this will become even more apparent because the country will demand more of its transportation system than it ever has.  By 2050, this system will need to move up to 100 million new people, and 14 billion additional tons of freight — almost twice what we currently do.
Even if Congress today funded our transportation system at recent levels, we'd still be on the same track; we'd still be on the track towards a slower, less safe nation where rush hour becomes rush all afternoon.
So what we need right now is to rally around a set of ideas that increase annual investment, speed up our permitting and review systems at every level of government, and ensure that future transportation projects do even more to grow jobs today and long into the future.  That's why a little over a week ago the administration sent the GROW AMERICA Act to Capitol Hill.  We did it to bring these ideas to the table.  The GROW AMERICA Act will do more than just level off the Highway Trust Fund; it would substantially increase annual funding to help us relieve congestion, alleviate freight chokepoints, and create jobs right now and long into the future.
We believe there's a lot of room for agreement around the ideas in this bill:  Growing our overall investment; setting the global pace for safety; strengthening our freight networks; streamlining the permitting process to gets projects done faster; giving communities of economic interest a bigger voice; and opening more opportunities for private capital to invest in America's infrastructure.  These are elements of what a 21st century transportation system looks like.
And we remain optimistic.  For more than a half century, broad, bipartisan majorities in Congress have consistently recognized that as America grows, so must our investment and transportation.  And I believe we can do so again.
Source: White House Press Briefing with Anthony Foxx,  WhiteHouse.gov 5/12/2014