by Nate McCarthy
Nyack High School graduates Nate and Ben McCarthy, Anders Fleming and the late Jesse Yanko formed their band Regret the Hour before enrolling at Hunter College.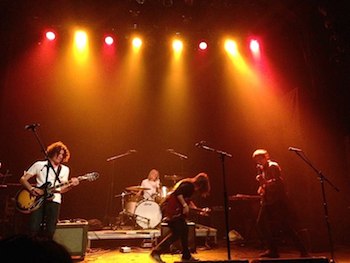 As we prepare to take the stage at the Studio at Webster Hall on Sunday, May 11, we are faced again with the task of putting together a set list.
Something we're still in the process of figuring out is how to keep an audience who's largely unfamiliar with your work engaged for an hour-long set of music.
When we first started playing live, we would often go into a show without making a set list at all. Instead, we'd call out the songs as we went—something many established bands still do, much to my surprise, probably because it gives off the impression that the live show is effortless, that the band doesn't care enough to make a set list, and not caring is "cool" these days, within a certain scene.
To many of us, though, this sort of display can be achingly boring and self-indulgent, especially when an audience has paid for tickets to come see you play. Realistically, a good set list is always a vital component of a great live show.
Much of putting together a good set list is common sense: opening strong and closing strong, saving the audience's favorite song for last, etc. There are some less obvious things that go into a great set, though.
One thing we do, for example, is write down the key signature of each song we've decided to include in a show. Most bands/artists will have a number of songs in the same key, placing these back-to-back in a set can cause the songs to all have the same feel, and easily bore an audience. If you switch up the order of songs based on key, it demands the attention of listeners; the ears adjust to a new key, and each song sounds new and different.
Another simple tip that doesn't always come to mind right away is being careful not to play too many songs with similar tempos back to back, but to vary the dynamic of the show, to go from fast to slow, and heavy to soft.
Ultimately though, there's no saying how an audience will respond, and a great set is perfected through a certain degree of trial and error.
Sunday's show will feature brand new songs off our not-yet released EP recorded with producer/engineer D. James Goodwin.
Nyack High School graduate Nate McCarthy is the lead singer/rhythm guitarist for the  alternative-rock band Regret the Hour.
 See also: