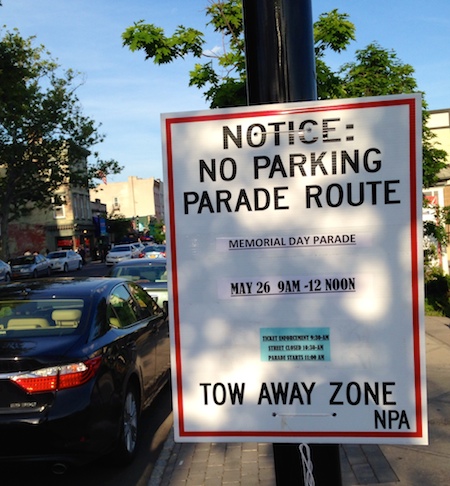 Nyack's 2014 Memorial Day Parade, honoring all those who currently serve or have served in our Armed Forces, will be held on Monday May 26 at 11a, followed by a  community picnic in Memorial Park.
The route starts at Artopee Way behind the Riverspace building continues north on Franklin Street, east on Main Street, south on Broadway, west on Depew into Memorial Park.
There will be free hot dogs and hamburgers at the picnic and festivities will run from noon until three.  Music will be offered by Dave Pirell and his Band and there will be a number of activities for children including face painting by Jamie's Faces; children's musical entertainment by Danna Banana; a petting Zoo by  Noah's Park Retreat and just plain good fun provided by Schnitzel  the Clown.
The Nyack Memorial Day Parade is a joint effort of American Legion Post 310, VFW Post 9215 and the Village of Nyack, NY.
When will the Watchfires be lit?
The 2014 Watchfires marking Memorial Day on Clausland Mountain in Orangeburg and at the Piermont Pier will be lit at 11p on May 29.
What is a Watchfire? "WATCHFIRES, 21 feet square at the base and 21 feet high were built in rows along the western shore of the Hudson River. Watchfires date back to our country's first war and have been used in all wars since.
"Since 1987, Rockland County's Vietnam Veterans have come together to build these WATCHFIRES according to the military regulations and specifications of the 1700's. WATCHFIRES are built every year on May 30th, the traditional Memorial Day, at four permanent locations in Rockland County, Clausland Mountain, Piermont Pier, Bowline Park and Gene Levy Park." — Vietnam Veterans of America, Chapter 333 Rockland County
Other local Memorial Day Observances on Monday May 26 include:
Piermont Memorial Day Parade is at 10a, stepping off at the Veterans of Foreign Wars Memorial Post to Piermont Ave and to Kinney Street.
Memorial Day Service in Blauvelt at 12n at Lion Park (next to Blauvelt Firehouse) in Blauvelt.
Nanuet Memorial Day Service at 11a at Nanuet Veterans Monument (across from Post Office) on Prospect St.