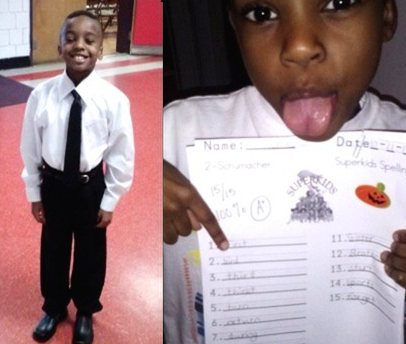 by Kaete Nazaroff
Xavier Bynum is one of the sweetest 7 year old boys you will ever meet.  He's a small guy with a huge personality. He jokingly refers to himself as "Mr. Muscles," knowing that he will always get a smile out of someone for saying so. Xavier is kind and respectful with an infectious smile. He loves sports, does well in school and above all else loves to make art. He is always the first to do or say something generous, and the little things mean a whole lot to Xavier. He genuinely appreciates and loves those around him.
Xavier is your typical 2nd grade boy in the classroom across the hall. But a few months ago Xavier began to have tremors in his right arm. They got so severe that his ability to write became limited. Quickly they progressed and moved down into his right leg making him walk with a noticeable limp.
Then the headaches began.
His mother Averita took him to the pediatrician who immediately sent him to Maria Fareri Children's Hospital at Westchester Medical Center for an MRI. The scans showed a cluster of cysts and one large tumor, each pushing down on different parts of his brain. That pressure was what was causing the tremors and the loss of strength in his hand.
Xavier was diagnosed with ganglioglioma, a type of tumor that has a high rate of recurrence. Thankfully the tumor was non-cancerous but needed to be removed ASAP. After three weeks in the hospital Xavier was allowed to return home and to school while his mother and his father planned what to do next. There were a few options, including trying to shrink the tumor with radiation before surgery. But the decision was made to do surgery first to drain the cyst and remove the tumor with possible radiation after if any ganglioglioma cells remained.
On April 21st Xavier was checked into the hospital and on April 24th he had surgery to remove the tumor and drain the cysts. Unfortunately, because of the tumor's location, Xavier's doctors were not able to remove it all. Now the waiting game begins to see what the next treatment will be and when it will begin.
Xavier's mom Averita is a single mom raising him on her own with help and support from his father and their extended families. She feels blessed to have been granted 2 months of Family Medical Leave from her job at a local bank, but unfortunately she is not getting paid while on FML.  Prior to surgery, Averita had to take time off and is now feeling the financial ramification of her son being ill.  Since the tumor was not able to be fully removed, Averita may be forced to ask for additional time off work to be with Xavier while he receives treatment to shrink the remaining tumor.
Our daughter Gertie and Barbara Valente's son JJ are in the classroom across the hall from Xavier. The 2nd grade students at Upper Nyack Elementary have made card for Xavier and are still a little unclear as to what has happened to him. His teacher, Mrs. Schumacher, approached RTG asking us if we could help ease the financial burden of this family.  Of course we said yes! We are eager to help one of "our own" and show our local second graders that they can make a real difference while teaching them how good it feels to help others.
In true Ride to Give fashion, we are going big for Xavier! David Nazaroff, our Co-founder and resident Team RTG-Ironman Captain will be participating in Ironman Texas on May 17th. We will be updating Dave's progress throughout that Saturday as he swims 2.4 miles, bikes 112 miles, then runs 26.2 miles for this dear young man.
Ride to Give is stepping in to raise at least four months salary for Averita so she does not have to worry about work and how her house payments will be made. When Xavier is in the hospital, Averita never wants him to be alone. It costs $5 each time she or a family member has to cross the Tappan Zee Bridge to visit plus parking and meals in the hospital cafeteria. For a family on a tight budget, those extra expenses are adding up quickly.
After Xavier returns home to Nyack, there will be travel back and forth to Westchester for appointments and for his further treatment. It is truly a fightening time for this close knit family and the funds donated by the RTG Army will take the financial burden off Averita so she can focus entirely on getting Xavier well.
Please help us raise what is needed to carry Xavier and his mom through this difficult time by donating at FundRazr.com.
The Ride to Give is a charitable non-profit organization based in Nyack NY. It was founded by Kaete Nazaroff and her husband, nine-time Ironman Dave Nazaroff.