Local cyclists will hold their annual Ride of Silence on Wednesday in New City to raise awareness of bike safety. Since the first Ride Of Silence following the death of Plano, Texas Bike enthusiast Larry Schwartz in 2003, several thousand rides have been held to honor the thousands of cyclists that have been killed or injured by cars that drove too fast or too close to cyclists. Last year, 372 separate Ride of Silence events were held in 26 countries.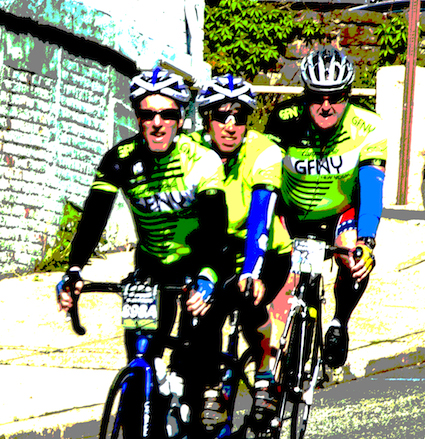 In Nyack, the Ride of Silence has special meaning. In June 2012, recreational cyclist Janet Martinez rode around Rockland Lake in Congers, NY and then continued cycling south on NYS Bike Route 9. Within a few miles of her starting point, Martinez was fatally rear-ended by a motorist traveling at 50 mph on NYS Route 9W.
The Rockland Bicycling Club will lead a Ride of Silence on Wed May 21 from the front of the Rockland County Courthouse, 1 S. Main St in New City. The ride will begin and end at the Courthouse. The six mile route, escorted by the Clarkstown Police, will follow Main Street and Little Tor Road and finish back at the starting point. Participants are asked to wear either a red or black armband. A red band denotes someone who has been injured by a motorist. A black armband means the rider mourns a cyclist who was fatally injured.
Parking is available behind the Courthouse and the Allison-Parris County Office Bldg. Parking is also available one block's walk away at Clarkstown Town Hall, 10 Maple Ave, New City 10956 and along Maple Ave.
Gran Fondo Winners from Columbia. But Nyack is a Winner, Too
5,000 cyclists zipped through the visit before 9a Sunday morning in the 98 mile 2014 Gran Fondo Bike Race. The top men and women's finishers hailed from Columbia. Gabriel Corredor finished first with a winning time of 4:21 for his second straight win. Amparo del Pilar Gonzalez 5:02 time was tops among women.
Although not a top finisher, Steve Knowlton raised over $2,000 on behalf of the Nyack Center — certainly a winning time for the community.
Other local riders included Heidi Broecking, Ann Breeswine and Nat Wasserstein from Nyack; Jeff Celetano, Andrew Blau and Jay Jacobson from Piermont; and Denise Lipson from Grandview.
Best quote of the day goes to an unidentified rider who called out while climbing a steep hill in Nyack, with 78 miles left to go. "My ex-wife is right. I am stupid!"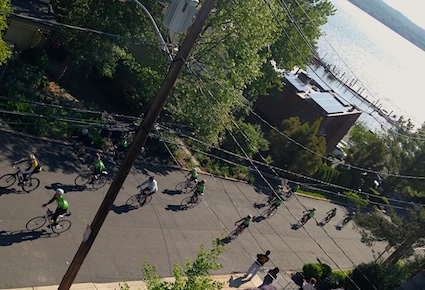 The Ride of Silence is an opportunity for both drivers and cyclists to consider how to more safely Share the Road and drive and cycle more courteously. In Rockland County drivers are frequently annoyed by cyclists who ride two abreast, a practice that is illegal in some places in Rockland County. Cyclists are frustrated because they say drivers and law enforcement are ignorant of New York State's Safe Passing Law, which is interpreted in more than 20 states as requiring three or more feet of space before passing a cyclist. Rockland County cyclists also say drivers pose a danger to bikers when they exceed the posted speed limit while passing bicyclists rather than slowing down and waiting for a safe place to pass.
Previously, the RBC has held Rides of Silence to honor the memories of Rockland residents Robert Carl Pinckert and Ennio Spiri. Pinckert, a cyclist from Upper Nyack, died after being fatally struck by a tractor trailer on Rt 303 in June, 2003. Spiri, who lived in Valley Cottage, died from injuries after being hit by a car in September, 2004.
The first Ride of Silence was held in May 2003  Friends of Larry Schwartz, led by cyclist Chris Phelan, decided to honor his memory with a silent ride of cyclists. The first 2003 ride attracted 1000 riders cycling silently at 12 mph around White Rock Lake in Dallas, TX.
There are 22 states that require motorists to provide three or more feet of space when passing a cyclist. New York's Safe Passing law is called "Merrill's Law" in memory of area resident Merrill Cassell, who was killed when he was struck in Tarrytown.
In case of inclement weather on the day of this event, participants should visit Rocklandbike.org to check to see if the Ride of Silence will be postponed. The rain date for this event is Saturday May 24 at 10a.
Photo Credits: A Roufa, Dave Zornow
May is Bike Month. Some of the previous stories we've covered include: