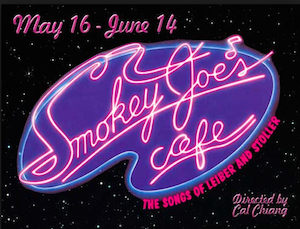 There will be two premiers for the price of one at the Elmwood Playhouse tonight.  On stage, the all-volunteer theater company presents their newest play, Smokey Joe's Cafe. But when the doors open, a recently completed major renovation will be unveiled.
Before the performance, Rockland County Executive Ed Day, Rockland County Legislator Harriet Cornell and other dignitaries and invited guests will take a guided tours of the refurbished theatre complex that features:
Smokey Joe's Cafe Cast Features Local Lawyer Alicia Crowe
Not long after receiving her law degree from Howard University and going into private practice with her identical twin sister, Alice, Alicia began studying voice privately with Dr. Stanley L. Ralph. Soon she opened concerts with Stella Marrs, Jimmy Heath, Norman Simmons, Sheila Jordan and Cameron Brown.
Alicia studied further at Harlem's esteemed Jazzmobile Saturday workshops founded by the late Billy Taylor where she developed her craft and found great mentors. She performs regularly with the Carrie Jackson jazz vocal collective in Newark, New Jersey and at several venues and private events in the New York metropolitan area.
Alicia will take the stage tonight in Elmwood Playhouse's production of Smokin' Joe's Café  through June 14, 2014.
Tickets remain for May 30-31 and June 6-7 and 13-14. Visit Elmwoodplayhouse.com for tickets.
A new entrance from Park Street
A new main lobby

Lavatory facilities in the new lobby

New hospitality area
A 'black box theater' studio and rehearsal space
After the show,  guests will be treated to a champagne and dessert party where they will be able to meet with the actors, directorial staff and stage crew of Smokey Joe's Cafe.
Elmwood Playhouse has presented Broadway quality productions to Rockland County audiences for 67 years. It took the all volunteer membership over ten years to raise the funds for the new improvements to the theater that was once a church.
In 1958, the building was formally purchased from the St. Paul's Lutheran Church for $8,000. Almost 20 years later, in 1976, under the leadership of President Elaine Vogel, the three adjacent buildings were acquired for $25,000. The performance complex includes a workshop space, a set building area, storage for costumes, scenery, properties and lighting equipment.
In 1954 the Elmwood Community Playhouse members were the first non-professional group in the country to perform Arthur Miller's "The Crucible." Recent productions, including this winter's Les Misearble, have been performed in front of sold out houses.
This current phase of renovations is the beginning of a more ambitious plan that includes expanding seating space for more legroom, a new mortgage has been procured and fund-raising efforts have begun again.
Smokey Joe's Cafe, directed by Chai Chang, this celebration of rock & roll and rhythm & blues through song and dance features classic songs by Jerry Leiber andMike Stoller including "Love Potion #9," "On Broadway," "Yakety Yak," and 35 more memorable pop hits. Smokey Joe's Cafe will run through June 14
See also: Nyack Sketch Log: Elmwood Playhouse