by Bill Demarest
Once in a while, something as simple as a hand-painted wooden sign can evoke enough emotion that it stirs a community to action.
That's the case in Nyack, where an "Underground Railroad" sign on a small garage just off Main Street made people think about the village's connection to pre-Civil War efforts to end slavery in the United States. That's exactly what the late Joseph Mitlof had hoped for when he turned the old garage behind a Catherine Street house into his own museum dedicated to the underground railroad.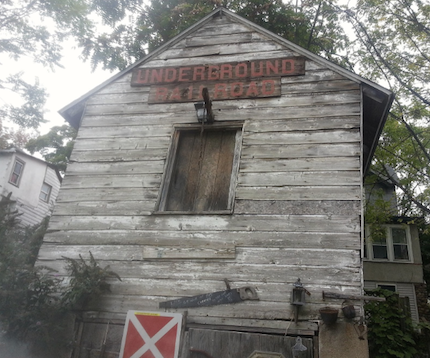 His tribute, however, didn't really take off as a museum. And in January, much of the old garage was demolished because Nyack village officials had determined the structure – with its very noticeable tilt to the east – was unsafe and could not be left as it was.
"Nyack Mayor Jen Laird-White said that when the garage – and its Underground Railroad sign – came down, she quickly learned how Mitlof's museum had become a symbol in the community, and especially an icon of the long presence and contributions of African-Americans in Nyack.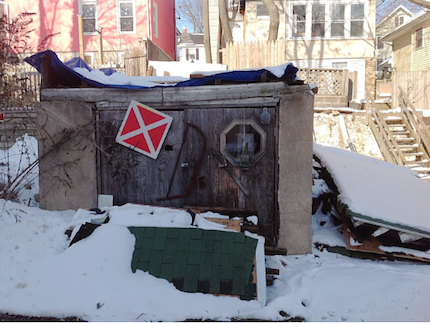 "People believed it was an actual underground railroad location," White said. "Joe Mitlof was successful in that he created a connection."While the old garage did not have any link to the underground railroad," White said, the sign on Mitlof's tribute became a local icon.  Residents and Rockland County civil rights leaders were disappointed that the sign was no longer there to remind the community about Nyack's historic roots.
The community discussion about the now-gone underground railroad tribute led to the formation of a new committee dedicated to creating a permanent memorial of some kind to the contributions of African-Americans in Nyack – and the surrounding community.
The Nyack Commemoration Committee was created by a resolution adopted at the April 10th meeting of the Village of Nyack Board of Trustees. At a gathering at Village Hall on Tuesday, the committee invited the public to submit proposals for a memorial.
The deadline for submissions is 5 p.m. on June 5
Nyack Commemoration Committee's Mission Statement
The mission of the Nyack Commemoration Committee is to create a public commemoration of the experiences and contributions of African Americans in the Nyacks. This commemoration would be in the form of a substantive display in a public space, that would accommodate individuals and families who might want to comfortably linger to reflect on and celebrate local African American history.
How to submit a Proposal
All interested persons and organizations are invited to submit a written or recorded proposal identifying what or who might be an appropriate subject that would commemorate the presence and contributions of African Americans to the history and life of the Nyacks.
The proposal might highlight
• A significant or well-known person, living or deceased, who lived in the community of the Nyacks for some period of time. That person does not need to have been born in Nyack and does not need to reside currently in Nyack
• A group or organization that has made a major impact on the community
• A particular trade or profession that has been significant to or indicative of the community
• A Nyack landmark, historical fact or iconic artifact as "representing" the essential spirit of African Americans living in the Nyacks over time
Proposals should include
• Name, organizational affiliation (if any), address, phone contact, email address of writer of proposal
• What individual, family, group, landmark, icon, etc., do you think would be the most fitting subject of a memorial to African Americans in the Nyacks?
• What historic facts, legends, experiences or other reason(s) make this an appropriate subject for the commemoration?
• What resources, including individuals, books, documents, etc., are you aware of that would provide more information on the subject of your proposal?
Once a theme has been adopted through a public meeting process, a Request for Proposals (RFP) for the form of the permanent commemoration will be issued.
Proposals should be submitted by 5 p.m., June 5, to Nyack Commemoration Committee, Bill Batson, Chair, Nyack Village Hall, 9 N. Broadway. Nyack, NY, 10960 or nyackcommemorationcommittee@gmail.com
Spring Valley NCAAP president Willie Trotman, who is supporting the committee along with Nyack NAACP president Frances Pratt, said he was eager to be part of the effort because Nyack and its long history as home to a large African-American population has influenced all of Rockland County. "Nyack is Rockland County," said Trotman.
Nyack artist and historian Bill Batson, who is serving as chairman of the new committee, said the group does not have any set notion on how to recognize the impact of the African-American community on Nyack. Instead, he said the committee is open to concepts that could range from a tribute to an individual to recognition of a group or even a profession.
Batson has sketched and written about Mitloff's Underground Railroad museum.
"As an artist and as a historian, I was fascinated by the shrine," said Batson. "I refer to it as a shrine because it had a powerful and intrinsic impact on people.
Batson noted that the loss of the simple gray, wooden sign with its faded red letters spelling out "UNDERGROUND RAILROAD" no longer part of the fabric of the community created a void.
Mayor White said that artifacts that were in Mitlof's museum are in storage, and it's possible that the items could be used in the future as part of a new tribute.
Mitlof, a U.S. Marines veteran and a former New York City police officer who became an well-known Rockland County entrepreneur, had a fascination for the underground railroad and supported the installation of two historic markers in Nyack that noted the contributions of local residents Edward Hesdra and John Towt in assisting the underground railroad. Two of those markers are located at the corner of Route 9W and Main Street and behind the Sterling National Bank (formerly Provident Bank) branch at Route 9W and High Avenue. Another marker just off Main Street highlights the Nyack Brook, which is like many small waterways that became key passages to help slaves escape to freedom.
While the Mitlof's old garage did not have any historic connection to the underground railroad, the structure was located near the path of the Nyack Brook.
Mitlof, who formed the Historic UnderGround Railroad Society, decorated the garage in 2004 with old tools and hoped the site could become a museum of sorts that could help educate children about the Underground Railroad and Nyack's role.
Mitlof died on April 4 at age 72.
The Nyack Commemoration Committee includes White, Batson, Trotman, Anngela Vasser-Cooper, President, Veterans Association of Hudson Valley, Inc., Constance L. Frazier, a longtime educator and former Nyack School Board member, Winston Perry, president of the Historical Society of the Nyacks, and Wylene Wood, a retired educator who is active in many organizations and is president of the African American Historical Society of Rockland County.
Nyack Village Hall event photos by David E. Bell
Underground Railroad shrine photos by Bill Demarest
Bill Demarest blogs about news in Nyack and Rockland County at NyackFreePress.blogspot.com.