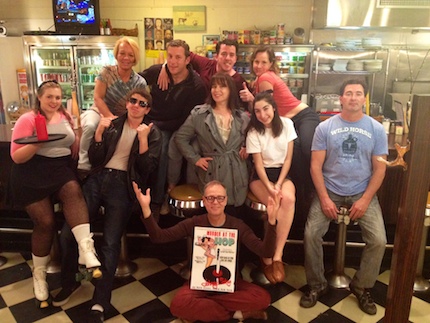 by Bonnie Timm
Johnny Cakes is serving a Whodunit Dinner on May 3 and 4. For $35, dinners and amateur detectives will dig into a meal of mystery entitled "Murder at the Hop."  The soundtrack for this supper of suspense will be performed by music legend and Nyack resident Sam Waymon.
Here are the plot ingredients:
The year is 1959 at Johnny Cakes, shortly after a Nyack High School class reunion
Penny, Del, Cal, Dee, EC, Joe, and Rick learn of Rock's unfortunate death.
In addition to food,  guests will be given clues and before the meal is over secrets will be revealed:
Who killed Rock?
And what was their motive?
Did Cal have something to do with Becky Sue's death?
And why is Dee traveling all over the U.S. when she should be in Law School?
With an amazing cast and excellent food it is sure to be the Bee's Knees! People will be chatting about this event for weeks. Helping catch a killer before the end of dinner is much better than catching a flick.
There are only two performances of "Murder at the Hop" on Saturday, May 3 and Sunday May 4 at 7p. Johnny Cakes is located at 84 Main St. in Nyack.
Murder at the Hop is produced by David Blauvelt and directed by David Blauvelt and Laura Rothschild.