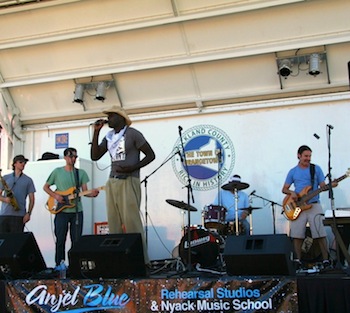 Fair temperatures in the 70's and partly cloudy skies provide the backdrop for 300 street vendors and five live bands at Nyack's 2014 SpringFest Street Fair on Sunday from 10a-5p. It's sponsored by The Chamber of Commerce of The Nyacks. Dogs are not allowed at Nyack's Street Fairs.
Sunday's Street Fair features live music courtesy of Nyack's own Anjel Blue Rehearsal Studios. Come hear Impossible Colors (at 11a), Curbside Hustle (12n), Shwizz (1p), Danielle Sheri (2p), The NY Hitmen (3p) and The Year Off (4p) perform onstage in the Main Street parking lot at Franklin Street.
Nyack's street fairs are known far and wide for their combination of merchandise for all tastes and pocketbooks, arts, crafts, food, entertainment and special goings-on, all within the context of the wonderful Village of Nyack, with its own attractions of great shops and restaurants in a charming Victorian setting.
Up to 25,000 people are attracted to the Nyack street fairs, when Main Street and Broadway are closed to traffic, making it a pedestrian paradise. Stroll throughout the village's downtown and street fair booths.
See also: