by Nancy Eisen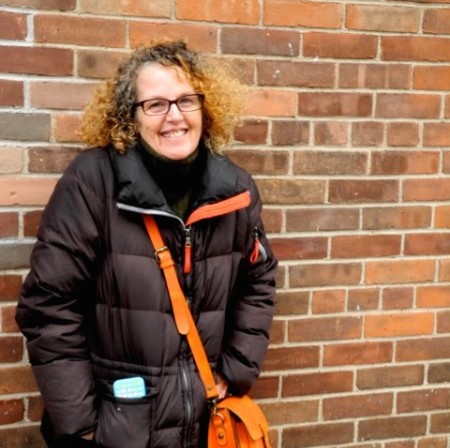 You don't know me, but it's likely we have a lot in common. I'm a mom with three kids, the youngest of which is in middle school. I have a master's degree in liberal studies with a concentration in African American culture. During my professional career I've worked as an art director, a journalist and a freelance graphic designer. I've spent several years caring for an elderly family member. We have a lot in common. Except that you probably have a home and I don't.
My son and I have lived in homeless shelters three times in the last twelve months. No one consciously chooses a set of circumstances that tax their health, financial resources and ability to hold on to what most everyone takes for granted. But despite our awkward, challenging and stressful circumstances, we've made some amazing discoveries about ourselves, about society and about being homeless in America.
Last May, we had a nine-month break from living in shelters when we shared a beautiful house in Nyack with a woman and her son. It was an ideal situation, but it ended too soon when our host moved into a smaller apartment that didn't have room for us. After experiencing the freedom of no curfews, no rules and no one watching over us, it was hard to go back to the homeless shelter.
As hard as it might be to imagine, there were times when I missed some aspects of living in the shelter. I missed the security and sense of purpose I found in the shelter. I also missed the babies and toddlers running around. It's hard to explain to someone who has never walked in our shoes, but there's a feeling of community and love which everyone in the same boat shares.
Our first experience at a homeless shelter was out of dire necessity. My son and I packed up our clothes and toiletries with only a handful of hours notice to escape an emotionally dangerous situation with my ex-spouse. Then something completely unexpected happened: I had an overwhelming feeling of being home for the first time in my life. It was quiet. The people warm and loving. We were embraced. My son, too, was happy. We talked about our comfort a lot. I learned quickly that "shelter" didn't mean the end of life; a fear I had held for a long time. It was a safe haven. Unfortunately, it didn't last.
After about two months, we were moved into a family homeless shelter, instead of one catering only to abused women. Where we had once felt warmth and support we now had a new adjective to describe our new home: It was institutional.
Nancy needs housing.
She needs a small one bedroom. She has a son in the Nyack school district and wishes to keep him there. Her housing budget is regular and reliable, yet limited. You can email Nancy at info@NyackNewsAndViews.com.
We were taken to the building housing the shelter, a plain brick institutional-looking building. We put our belongings on metal carts and were strictly directed to put all clothing and bedding articles behind a locked fire-door, where it would stay until washed. Everyone we dealt with was pleasant, if not professional. We were shown to our room, down a long yellow hallway with shiny white floors. Like a hospital.
Our room was the same. There was one bed and one cot. Two institutional looking dressers. A bathroom. The shower was down the hall—all we had to do was ask a staff member to unlock it when we wanted to use it. We were given linens, towels and blankets.
We received an institutional physical exam, which was really nothing more than the required TB test given to all new clients.
In this shelter, there is a room called the "family room," the only space where the residents are allowed to interact. Sometimes we gather and chat. Sometimes it's too loud with screaming kids and moms or just too frenetic with activity. We spend a lot of time in our room—watching movies, listening to NPR or playing Yahtzee. We have no TV or Internet.
The system may seem institutional, but the people I have met along the way are anything but. I am astounded by the deep love I have felt for the people I've met during our journey into this remarkable subculture of homelessness. I have gotten to know some of the deepest, most genuine, spiritual people I have met during my life. I have felt bonds with a few people so deep that it has brought tears to my eyes, and we have wondered together why it took so long for us to meet. I've discovered a common thread in this community that makes me believe it will always exist, and it deserves so much more respect than it is given.
Even though I am not the "typical" person you would find in the system, there is a reason I am there. Maybe I'm there to give it a voice. I have a resoundingly powerful desire to talk about what I have found, and what I think it means. I don't want to be homeless. I don't want my son to be homeless. But I want to teach people about homelessness because there is so much to know and so many attitudes to be changed.
It's not what I had expected. It's also not a place where we want to remain. We hope to find an apartment we can share in the near future in Nyack. Yes, we'd like to leave the institutional feel, the mediocre food and the rules and the restrictions behind. But there are lessons we have learned about how easy it is to find yourself homeless and how despite their difficult circumstances, how wonderful many of those people can be.
We are instructed to find a "room" using Craig's List and meet with our housing representative weekly. With a small budget, a teenage son, and a strong desire to live in Nyack our chances are slim to none—especially since when people hear the words "WELFARE" or "SON" they get off can't get off the phone fast enough. I try to tell them my story, but they don't want to hear it. I always think if they took the time to hear me out, if they'd just meet me, they'd change their mind. Maybe some day, but this hasn't happened yet.
Nancy Eisen is a single mother of three children who has worked as a beat newspaper reporter and an advertising agency creative director. She holds a BA in Environmental Studies and Philosophy and an MA in Liberal Studies from Ramapo College. Eisen grew up in Suffern, NY.