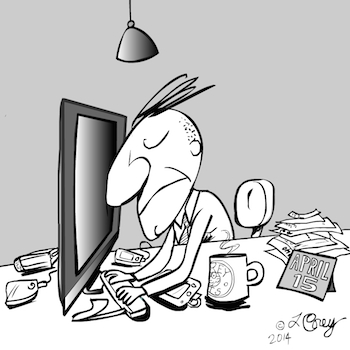 War is hell — and so is paying income tax. War was also the rationale for the first US Income tax, introduced by Abraham Lincoln, a guy who otherwise has a pretty good rep as American presidents go. Honest Abe signed the Revenue Act of 1861, a three percent flat tax enacted to pay for the Civil War.
April 15 hasn't always been Tax Day. In 1913 the filing deadline was March 1. It was changed to March 15 in 1918 and finally fixed at April 15 in 1955.
Is all of this a bit overwhelming? No quite ready yet to file? Here's good news: you can file for an extension and join the 12 million other tax payers who have already requested an additional six months to file their 2013 tax returns.
The IRS has also been keeping track of the scum and their scams who try to add to the despair of tax day. Their 2014 "dirty dozen" of tax scams includes identity theft, phone scams, phishing Websites (ones that look legit but only exist to steal your identity), and false money from inflated returns. No word yet if that guy from from Nigeria who keeps sending desperate emails has made the list.
More good news: some businesses offer Tax Day deals to make you smile. Or at least grimace gracefully. Boston Markets will let you buy two half-chicken meals on Tuesday for $10.40 (THINK: 1040 form). If you are willing to sing for your supper at a Hard Rock Cafe, you can get a free entree on Tax Day. And Office Depot wants to help you forget the ordeal, in a destructive but non-lethal way: they'll shred up to five pounds of paper for you for free thru April 16.
History buffs know that it wasn't exactly a straight line from Abe Lincoln to Tax Day 2014. The original Revenue Act of 1862 was superseded by the Revenue Act of 1862 which subsequently expired in 1866. The 16th Amendment made income tax the law of the land in 1913 by allowing Congress to tax without apportioning the revenues among the states.
Sources:
Cartoon: Tax Day, ©2014 Coreytoons / Lee Corey