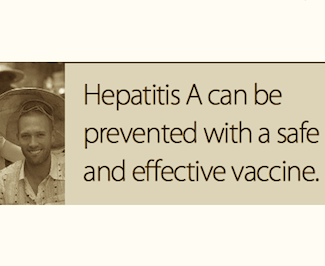 If you dined at Nyack's La Fontana restaurant between March 19 and April 1, the Rockland County Department of Health has a "head up" for you: you may have been inadvertently exposed to Hepatitis A, a virus that can cause liver damage. The county health department is offering free Hepatitis A vaccinations to restaurant customers and employees this weekend and on Monday, April 13.
Hepatitis A is spread from person to person by putting something in your mouth that has been contaminated with traces of fecal matter from an infected person. Most people recover within a few weeks with bed rest and by avoiding alcoholic beverages.
Free vaccinations will be given at the Rockland County Fire Training Center, 35 Firemens Memorial Dr in Pomona on Saturday (11a-5p), Sunday (11a-3p) and Monday (9a-12n). Restaurant patrons may also receive a vaccination at their medical provider's office.
What Is Hepatitis A?
Hepatitis A is a liver disease that results from infection with the Hepatitis A virus. It can range in severity from a mild illness lasting a few weeks to a severe illness lasting several months. Hepatitis A is usually spread when a person ingests fecal matter — even in microscopic amounts — from contact with objects, food, or drinks contaminated by the feces or stool of an infected person.The best way to prevent Hepatitis A is by getting vaccinated.
Symptoms of Hepatitis A include jaundice (yellowing of eyes and skin), fatigue, abdominal pain, nausea, and diarrhea. While some people who have chronic liver disease or a weakened immune system could experience more severe illness and require hospitalization, Hepatitis A is very rarely fatal (fewer than 1% of cases).
A confirmed case of the virus was identified in a food handler at the restaurant, possibly exposing customers and other employees between March 19 and April 1, 2014. Patrons who ate at the restaurant between March 19 and March 28 will not benefit from vaccination. In order for the vaccine to be most effective, people who have been exposed to Hepatitis A should be vaccinated within 14 days. The earlier the vaccine is given, the more effective it is in preventing the disease. In general, the vaccine is 80% to 90% effective.
People who were exposed but have already received two doses of Hepatitis A vaccine sometime in their life do not need another shot; all others should be vaccinated.
For more information on Hepatitis A, visit the Rockland County Department of Health website. or call Division of Disease Control & Prevention 845-364-2997.
See also: