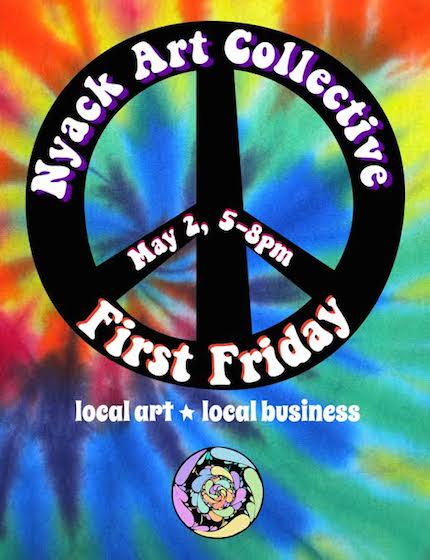 Hippie days are here again for First Friday. The Nyack Art Collective has organized tie-dying workshops, a drum circle, a circus parade and a Maypole so that you can party like it's 1969.  The public is urged to explore their inner flower child and turn Main Street, Nyack into Haight-Ashbury, San Francisco during the summer of love.
This month's counter cultural carnival includes:
A performance and parade by the young people of the Amazing Grace Circus,
60s music by the Dangerbirds,
a drumming circle
an Interactive Maypole
a photo booth
These far-out festivities take place at the Main Street Gazebo between 5-8p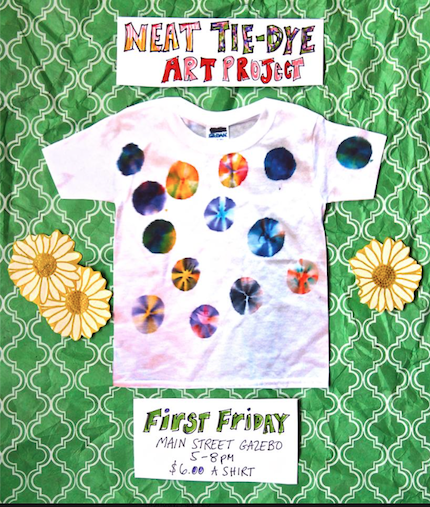 If you need help flying your psychedelic flag, an art project called "Neat tie-dye t-shirts" will be on hand. People are welcome to bring their own t-shirt and tie-dye for $3.50 or buy a t-shirt and tie-dye for $6.
Here is a complete guide to First Friday May.
Main Street
The Franklin Antique Center – #142: Chris Machlin, Elaine Schloss
Cloud 9 – # 120: Christina Hernandez
Vincent's Ear-  #112: Jamie Gaviola
Casa del Sol – #104: Tony Ziegler
Little Flower Shop –  #95 1/2: Natalie O'Donnell
Harry's Burritos – #90: Sandy Levine
p. ross boutique #89: Lynn Stein
Johnny Cakes: #84: TBA
Temptations – #80 1/2: Mark Carruthers
North Broadway
Edward Hopper House Art Center – #82: Jan Valerie Polk
Bee Alive – #19: Lawrence Hultberg
South Broadway
Chocolaterie – #6: Ken Burns
Sweet Spot – #11: Natalie O'Donnell, Tony Ziegler
Saffron-#14: Robin Lawson Scheuer
Art Café -#65: Doris Shepherd Wiese
ML by Maria Luisa – #75: Ed Kirkland
Amis Gallery  #79 1/2: Kris Burns
Hudson Avenue Gagliardi Studio & Gallery – #39: Bobby Sherman