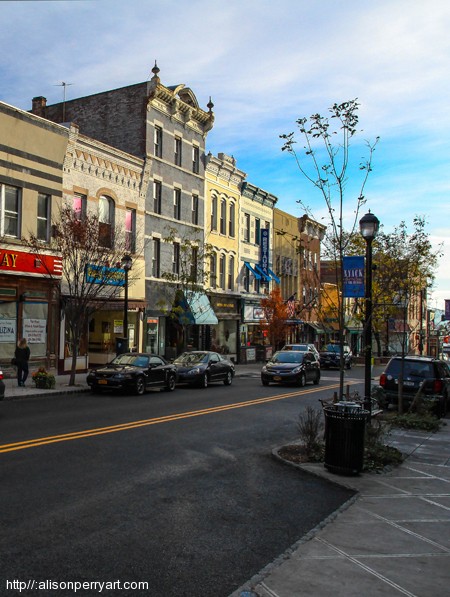 by Clayton White
It might seem a little bit strange to talk about holiday shopping during the first weeks of spring — especially if you are the kind of person who cringes when they see Santa in the stores right after Halloween.
Clayton White spoke to Nyack merchants about last year's holiday shopping season. The lessons learned from last year can inform local marketing decisions for today, tomorrow and next Xmas.
Big box retail. Online shopping. Constricted parking access. There is a seemingly never ending list of pressures facing small-town retail. Add that to record high temperatures and three snow storms, the holiday shopping season took a toll on local merchants.
"The season started off slow, but picked up toward the end, which is not typical," says Chris Barchuk, co-owner of Funny Business, a comic book store on Main Street. Barchuk says foot traffic was flat, but online sales were up. "If I didn't have both sources of income, there's no way I'd be in business," Barchuk says. "Wal-Mart was selling the product I sell at cost. There's no way I can compete with that."
Pickwick Books owner Jack Dunnigan says the holiday shopping season is historically up and down. "It depends on the weather and when Hanukkah and Thanksgiving fall." According to Dunnigan, seasonal sales are stronger when Thanksgiving is early and Hanukkah falls closer to Christmas. Consumers have changed — and so has Nyack. "The village has changed to such a degree that you don't get the shoppers you once did," says Dunnigan.
Loreen Costa, proprietor of Hickory Dickory Dock on South Broadway, feels the holiday season was, on balance, a success. "Overall the year was flat and most of December was quiet. However, there was far more business in the last weekend than anticipated. We had quite the pace at the end," Costa says.
There were four contributing factors which made the 2014 holiday season unique: December snows, the opening of the Shoppes at Nanuet, a weekend free parking offer and a new, multi-media holiday advertising campaign.
Costa says the the television, radio, and and digital media ad campaign was a bright spot during December. "It presented a positive message — which left shoppers with a positive feeling. There was a sense that people who came to show remembered hearing about Nyack. There were some new faces, and a sense of people coming in that hadn't been here in a while."
The 4Q 2013 campaign, run by the Nyack Marketing Association, included traditional radio and TV advertising as well as public radio sponsorship messages on WNYC.org's digital stream and outdoor advertising at the Tarrytown Metro North train station. The Nyack Marketing Association is a  coalition of local businesses and non-profits, the Nyack Chamber of Commerce and the Friends of The Nyacks.
Dunnigan agreed that the holiday advertising campaign was a step in the right direction. "Whatever the village does on a positive note is helpful. It is much appreciated. No negatives here."
"Some people make it a point of pride not to shop at the mall. They're happy to be in Nyack," says Costa. "What we need to do is capitalize on our location in a positive way. We need to get people here, and help them have a positive experience here."
The Shoppes at Nanuet didn't have much of an impact on Nyack holiday business last year. "If anything, it brought more people into the Rockland than would otherwise have visited," Costa says.
"After September and October there was less foot traffic," says Chocolaterie owner Annette van Loon. "Overall the season was a bit slow, but last minute sales were extremely strong." Van Loon praised the village's free-weekend parking initiative. "It was nice of the town to do. But it would have worked better if people had known about it beforehand."
Ah, the parking question. Does it drive people away? Or is it only an excuse for other factors with which Main Street can not contend? "Parking is an issue, but we need to charge for parking," says Van Loon. "If parking were free I'd have people parked in front of my store all day." Without regular turnover, loyal customers would be discouraged because they wouldn't be able to find convenient parking.
While the loss of meter revenue on the weekends during December was noticeable, it was nothing the budget could not bear, says Nyack Village Administrator James Politi. "It worked out well for everybody. The weekend days are most important to both of us, but we still had revenue from the weekdays," Politi says.
Photo Credit ©2014 Alison Perry