Amazon to Introduce Drones To Nyack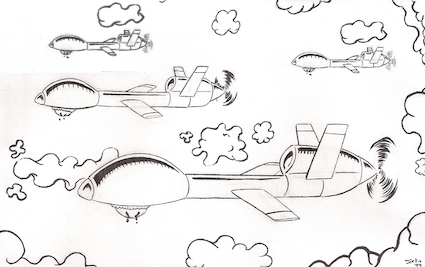 The online superstore without-a-store, Amazon.com, will use Nyack, NY as a test market for its proposed drone delivery system. Nyack has been selected as the best place to test this concept because it has a small footprint and strong river breezes to help the drones get lift when hauling heavy packages, like bowling balls.
The first merchant to sign up for the service is Nyack's Pie Lady and Son who will use Amazon-provided pilot-less drones to deliver baked goods from their hot oven to your front door. The new delivery method, called "Pie In The Sky," will be managed by the company's airborne administrative personnel, Moe, Larry, and Shemp.
Cyclist Situation Solved
The Village of Nyack has come up with a novel way to cater to cyclists while profiting from their visits.

The village will begin construction of a premium pay express lane for cyclists this summer. Bikers will enter the cyclist expressway at the Piermont Toll Plaza and pay electronically via a special E-ZPass transponder attached to their helmets. The new lane will be raised 12 feet above street level and will only be six inches wide. "Let's see them try to ride side-by-side on this road," said Nyack Chief of Police I.B. Peddlin.
New South Nyack Map Available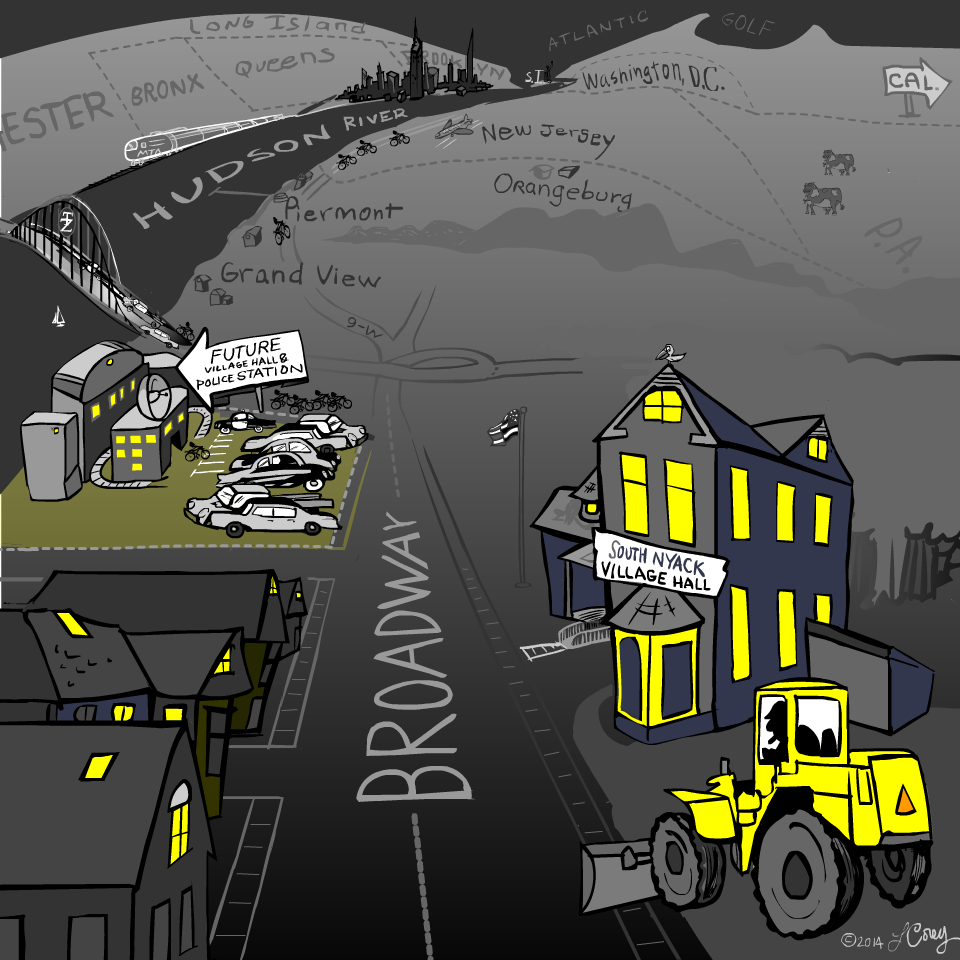 As part of it's effort to raise the profile of the village that gets no respect from the NYS Thruway, now or in 1955, the South Nyack Village Board has created a new map to show where the village is located in relation to the world. "Albany acts like we don't exist," says South Nyack Administrator of Cartography, Rand Paul McNally. "We'll show them … where we are."
Nyack Late Night Business Association Gets Competition

Earlier this year, Nyack's after hours venues formed the Late Night Business Association providing a 24 hour hotline that anyone can call if they see a millennial making mischief before sunrise. They've also started a campaign called "Beautify Nyack" to organize residents to pick up stuff during the day that people left out at night.
It's the kind of community spirit that quickly attracts imitators.
The Nyack Mid-Day Lunch Bunch is a consortium of eateries where customers frequently ask for doggie bags but then forget to take them home. These restaurants have teamed up with animal rescue groups to match the unclaimed doggie bags with unclaimed dogs. Both will be delivered at no cost to the patrons who neglected to bring home their leftovers. Food service experts predict these customers won't soon make that mistake again.
The Nyack Breakfast Club, co-sponsored by Rivertown Film and every place in the village that serves coffee, will offer a free cup of joe to anyone who can name someone in the cast who wasn't Molly Ringwald.
PIP: Turn This Paved Parking Lot Into A Museum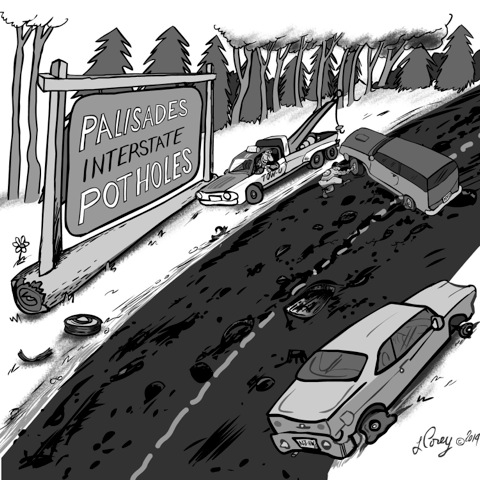 Much has been written about the bumpy ride drivers get while driving on the Garden State's stretch of the Palisades Interstate Parkway. New Jersey says they don't have the money to fix the potholes after blowing most of their transportation budget on managing lane closures at the George Washington Bridge. With no money to resurface the parkway, the Christie administration has devised a new scheme to make the PIP serve the public interest.
Beginning April 1, the New Jersey Palisades Interstate Parkway will close to vehicular traffic and reopen as a Moonscape Theme Park. "It's a perfect educational opportunity to inspire the next generation of lunar explorers," says PIP public relations director Nota Road. "The deep craters in the highway are the perfect setting to demonstrate transportation opportunities that are out of this world. And we won't have to do a damn thing to make this transition."
Today In History
Illustration Credits: "How South Nyack Sees The World" and "Palisades Interstate Potholes" by Lee Corey; "Pie In The Sky" by Jeremy Fuscaldo