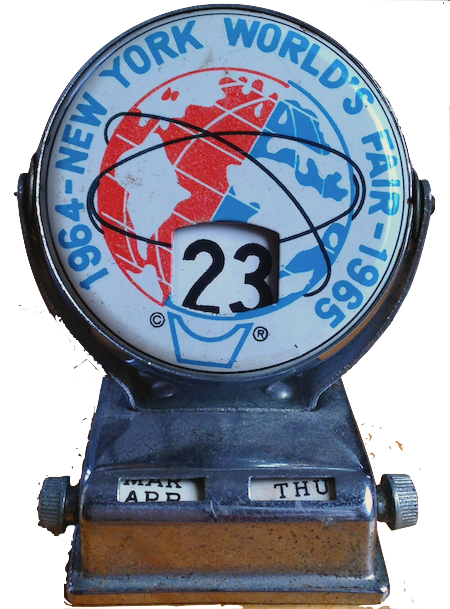 by Dave Zornow
Before the Internet, mobile phones, 9-11, the Challenger disaster, Watergate and Vietnam, many Baby Boomers in the tri-state area had another shared memory: the 1964-65 World's Fair. If you lived near New York City during the two seasons the World's Fair entertained 70 million visitors, it was likely you went at least once — after all, it was only $1.50 for kids to attend (adults had to reach down deeper into their pockets to afford the $2 admission price).
Fifty years ago this week the 1964 World's Fair opened in Flushing Meadows, New York. We asked a few boomers who were only tweens at the time what they remembered.
If this is before your time, it's tempting to tune out now and write this article off as old people remembering the good old days. But first consider this: when you were 8-12 years old, what did you think the future would bring? And how close do you thinking then  come to imagining the technology we have today? Today's boomers didn't get the jetpacks that the future promised in 1964. Nor did the Picturephone that AT&T introduced at the Fair ever take off. But the touch tone phones first introduced at the Fair did stick around for a while. And the predictions some heard at the IBM Pavilion about what the future of computing holds for humanity? Surely every one of those dreams has been passed by the reality of what you can do today with the smartphone in your pocket.
The future is never what we think it will be. The Fair goers of 1964 couldn't have imagined a time when land line phones would be so-20th-century, or Kodak film is an antique, or gas prices rounding to $4 a gallon. And during the heat of the Cold War, at a time when students had to learn to duck and cover to be safe during a nuclear attack, that man would be walking on the moon in only five years and subsequently walk away from lunar exploration for 40 years.
No one ever really knows what the future has in store for us. But here's a chance to look back at a few impressions of the 8-12 year olds how are now in their late fifties about what the World Of Tomorrow once promised to be.
---
I went to the 1964 World's Fair with my parents and my younger sister, Arlene, when I was seven years old. The giant silver globe that loomed over the fair was like a beacon as we made the long walk from the parking lot (well, it seemed long!). I loved "It's A Small World" but was frightened by Dinosaur Land or whatever they called it. There was a "House of Tomorrow" with all these amazing electric gadgets. We would NEVER have to clean another thing by hand! Ha! My Uncle Jimmy was a salesman at the fair and sold electric lounge chairs that went up and down and gave you a massage. I had never seen so many people in one place at one time in my life. It was amazing. — Diane Serratore, Nyack, NY
---
I grew up in Queens and went to World's Fair several times. Being a 11-12 yr old, I was in absolute awe. I imagined that I was traveling throughout the world. It was a an early EPCOT-like experience. — Andy Morris, Marlboro, NJ
---
I attended the fair at least six times over the two summers it was open.   I  loved the Bell Telephone pavilion – floating above the asphalt walkways!   Its technological promise is captured  in the opening of Stanley Kubrick's 2001 with video phones from space!   I must have seen GE's "Carousel of Progress" at least once per visit.  So engrained in my psyche was the theme song that I could still sing along 40 years later when I visited the (now demolished) replica at Disney's EPCOT with my kids.   I hated the wait to get into the GM pavilion, but remain fascinated by a ride through the diorama and viewing its 12-lane highways.  In 1973, on my first trip on the just opened I-95 south of Baltimore I recall thinking "oh, they finally built THAT highway!" I always wondered who went to the bayside stands to watch boat races, and why there was such a fuss about the NY State pavilion (nothing interesting there for a 10 year old boy).
It was such a contrast going to the Fair from the grimy, old-tech world of NYC and the industrial Meadowlands of Northern NJ. I believe my first trip with the Cub Scouts included a ride on the old Susquehanna railroad from Hackensack to Newark where we boarded a PATH train to continue our trip to the Fair.  The Susquehanna coach was a dark bron compartment that smelled of oil and tobacco smoke. The train trip provided a grimy view of New Jersey: rusty metal sheds, storage tanks and dirty water. Imagine that trip  – from the soiled 1940's rolling stock to stainless steel turnstiles glittering under bright fluorescent light. By comparison, the world of the future promised to be clean, bright and beautiful. — Maury Schlesinger, Washington DC
---
The summer the Fair opened I was 11 years old.  I remember three things from it: 1) the Unisphere, which I thought was very big picture and cool, 2) GE's ride through the homes of the past and the homes of the future, which convinced me that by the year 2000 we'd all be chatting by videophone and having robots do most of our housework, and 3) an exhibit with two sexy teenagers – he in beach shorts and she in a cute bikini (sexy at the time, modest by today's standards) throwing what looked like a pie tin back and forth to each other, with the thing apparently floating in the air between them.  It was the first (but certainly not the last) Frisbee I ever saw.  — Craig Spitzer, Walnut Creek, CA
---
I was 9 when my parents, sister (12) and I went to the fair the first time. We drove from our apartment in the Bronx. I believe it was the first Sunday that it was opened and my father said we weren't going to buy anything or pay for any ride that may be extra.  He made a really big deal about telling us that.  The first exhibit that we went to was the 'better living' building.  Anyway by the time we left that exhibit we ended up with a set of Americana Encyclopedias!  With a World's Fair commemorative inside jacket in each of the 30 books in the set.   I think it cost $500. Over time, it became our favorite family story about how we promised not to spend money but did anyway. But for our education it was worth it. — Eric Graff, River Vale NJ
---
I had just turned nine and saw the 1964 World's Fair with the wide-eyed enthusiasm that comes with the innocence of youth. It was big. It was bold. It was new. It was exciting. The whole wide world was coming to New York City. And it was coming to the borough of Queens, a part of the City I knew very little about. I remember that I was so excited I couldn't sleep for a few days before we were scheduled to go.
My first impression, as seen from the window of my father's car while driving the Grand Central Parkway, was of the huge, steel globe sculpture that was to be the centerpiece of the entire exhibition and still dominates the landscape there, even today. For me, it was awe inspiring. It was colossal and symbolized that the world had truly come to New York. I also clearly remember the observation towers associated with the globe. They reminded me of spaceships  — an impression also clearly made on the creators of Men in Black.  The image left me thinking about the promise of a Space Age future. I could hardly wait to park and get out of the car.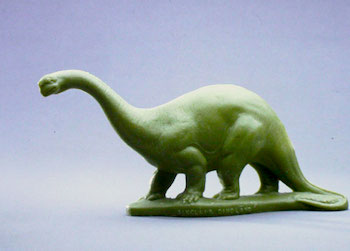 There was one attraction that I was more excited to see than any other: Sinclair's Dinoland. As a fossil fuel company and gasoline distributor, Sinclair used dinosaurs, as their symbol. Well, their exhibit at the Fair was full of them. From T-Rex to Stegosaurus to Brontosaurus, they were all on display, and to scale!! OMG!! For a nine-year old boy, it just couldn't get any better. When we finally walked through the park and got to the exhibit, I thought that I had died and went to heaven. The rest of the Fair was interesting but THIS was awesome.
At the end of the exhibit, there was a machine that made resin molds of any dinosaur you might want. Of course, I wanted T-Rex. After all, he was KING of the dinosaurs. I held onto that T-Rex for years. Eventually, it was lost to time. Too bad, I just saw someone on ebay selling one for $350. But I wouldn't sell mine. The memories are worth far more than that. — Frank LoBuono, Nyack, NY.  (Editor's Note: If you are willing to settle for a Sinclair Dinoland Brontosaurus, you can get them on ebay for about $40).
---
I thought the Monorail was one of the coolest things at the Fair. At 8 years old, I was looking forward to the future when we would all be traveling that way. Alas, it didn't turn out that way: the only two times I encountered a Monorail as an adult were at Disneyworld and in an episode of The Simpsons. — Dave Zornow, Nyack, NY.
Sources:
See also: NYWF64.com
Some additional ads from the 1964 World's Fair Guidebook (click on the image to enlarge)