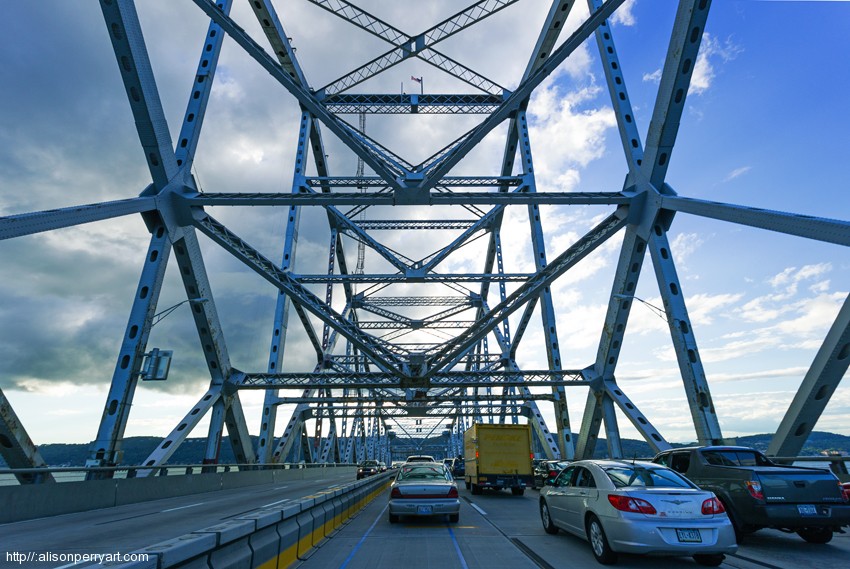 by the Tri-State Transportation Campaign
Transit plan enhances bus service, but falls short of true BRT via the new Tappan Zee Bridge.
Last week the New NY Bridge Mass Transit Task Force (MTTF) issued its Final Transit Recommendations, a 119-page report detailing transit improvements in Rockland and Westchester Counties in the Tappan Zee Bridge/I-287 corridor. The recommendations propose a new, branded bus system with new routes, buses, stations, and technology that will enhance the bus riding experience for existing riders while attracting new users. If these recommendations are implemented by Governor Cuomo and the New York State Thruway Authority, transit between these two counties can be transformed from an experience that is tolerated, to an experience that is preferred. And, the Hudson Valley will have secured a big win.
While the recommendations include key features of bus rapid transit (BRT) systems, such as modern, branded buses, new bus stations and signal technology that gives buses priority, one key amenity is missing: dedicated bus lanes that run the lengths of the proposed routes. While buses will be given dedicated lanes on the 3.1-mile bridge span, they will then merge into unpredictable travel patterns beyond the bridge. Dedicated lanes help ensure buses bypass congestion and maintain service priority in a full bus rapid transit system, as has been demonstrated throughout the country and world. For every case that can be made that dedicated bus lanes are not a defining characteristic of BRT, there is a case to be made that they are indeed essential to BRT — and Tri-State sides with the latter. We do not believe this proposal constitutes full BRT. Yet, we fully support the recommendations because they propose expanded and improved transit in the corridor, which we have consistently called for in the new bridge project.
We hope a dedicated bus lane will be explored in the Corridor Preservation Study in the short term. It could be an added amenity to this new system, in the medium term, within the next 15 years.
In order to advance the MTTF recommendations, the following steps must be taken:
The identification of responsible parties and funding sources to implement the recommendations
The creation of a toll/finance task force that addresses this transit proposal in tandem with proposed bridge tolls
The creation of an oversight committee to convene quarterly to monitor implementation
Implementation timeline for short-term transit proposal
Tri-State thanks Governor Cuomo, MTTF co-chairs NYS Department of Transportation Commissioner Joan McDonald, NYS Thruway Authority Executive Director Thomas Madison, the New NY Bridge project team, ARUP, and members of the MTTF for their efforts to improve transit in the Tappan Zee Bridge/I-287 corridor.
The Tri-State Transportation Campaign is a non-profit organization working toward a more balanced, transit-friendly and equitable transportation system in Connecticut, New York and New Jersey
See also:
Photo Credit: ©2013 Alison Perry