by Dave Zornow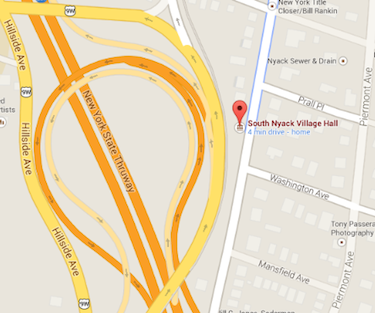 South Nyack, Mar 20 — South Nyack will present its plan at 7:30p to deal with the excepted surge in tourism when a new pedestrian and bike path opens on the north span of the new Tappan Zee Bridge in 2018. Mayor Bonnie Christian has been quietly walking around a plan to demolish the current Village Hall and police station and replace it with a 22 spot parking lot. A similar tourist attraction in Poughkeepsie, the Walkway Over The Hudson, attracts 100,000 visitors a year.
People who have seen the plan say Christian and the South Nyack TZ Bridge Task Force will propose building a new Village Hall and police station without increasing the tax burden of village residents — the implication being that NYS would pick up the tab. New York State has already spent $4.2 million of its $20 million TZB Community Benefits Fund for new windows and other noise abatement features at the Salisbury Point Co-Op and the Bradford Mews apartments in South Nyack as well as the Quay in Tarrytown. South Nyack Village Board Trustee Catherine McCue is also president of the Salisbury Point Co-op Board of Directors.
Listen in Live Tonight!
NyackNewsAndViews in cooperation with the South Nyack Village Board has set up a conference call to listen in to tonight's meeting.
Dial (559) 726-1300 and enter the Access Code 474263 when the meeting begins at 7:30p.
Last Tuesday's Village Board election became a defacto referendum on how the mayor and village board have been handling this issue. Turnout was at least 60% higher than last year's election. The two candidates most critical of the mayor's process fell just short of unseating an incumbent and one of Christian's personal choices to fill a VB seat.
The mayor has been sharply criticized on social media for not making the process more transparent and providing any details to the public before tonight's 7:30p presentation at 45 South Boulevard in Pardington Hall on the campus of Nyack College.
See also: