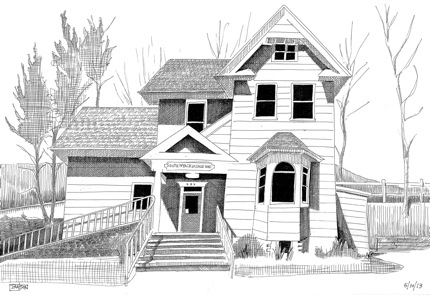 South Nyack, Mar 18 —  First time candidate and recent US citizen Andrew Goodwillie was the top finisher among four candidates for two open trustee positions on the South Nyack Village Board. Incumbent Alain Leinbach finished second claiming the other trustee spot, edging out Ann Hekker Weiss by 12 votes and three percentage points.
Dennis Lynch, who ran unopposed for Village Justice, received 268 votes.
Turnout for the Tuesday election far exceeded the 2013 election for Mayor and Village Board where only 169 people voted.
| | | |
| --- | --- | --- |
| |  Votes | Pct |
| Andrew Goodwillie | 219 | 60% |
| Alain Leinbach | 217 | 59% |
| Ann Hekker Weiss | 205 | 56% |
| Erik Simon | 162 | 44% |
| Total | 367 | 100% |
Hekker Weiss and Leinbach were initially selected to run as Democrats until a disputed ruling by the Rockland County Board of Elections invalidated the Democratic line for this election. Leinbach and Goodwillie ran on the Village People's Party against Hekker Weiss and Simon's newly formed South Nyack Community party.
Goodwillie, who gained his US citizenship two years ago, is originally from the U.K. He has lived in South Nyack for nine years and works as a geophysicist at the Lamont Doherty Earth Observatory in Palisades.
Hekker Weiss and Simon provided the following concession statement after the election results were announced.
We congratulate Alain and Andrew and believe they will work hard to serve the interests of South Nyack. From the moment this campaign began, we have said repeatedly that they are good guys, and they are. They have their work cut out for them.

Not only are there major decisions on the horizon, many regarding the new bridge and related issues, but the village is deeply divided right now, and not because of what has happened in government but how it has happened. They have promised to improve communication from elected officials to constituents, something that sorely needs to happen, and merely by fulfilling that process, they will sweep away a lot of the current animosity.

We ask that in upcoming meetings, all South Nyack residents remember that we are all neighbors. We may have different wishes, but nobody will have all of his or her wishes met.

Cooperate. Compromise. Communicate. If we do these three things and remember that our elected officials have to consider the entire village and not just isolated individuals, then this process will likely be a lot less acrimonious.
See also:
Illustration: South Nyack Village Hall. ©2014 Bill Batson