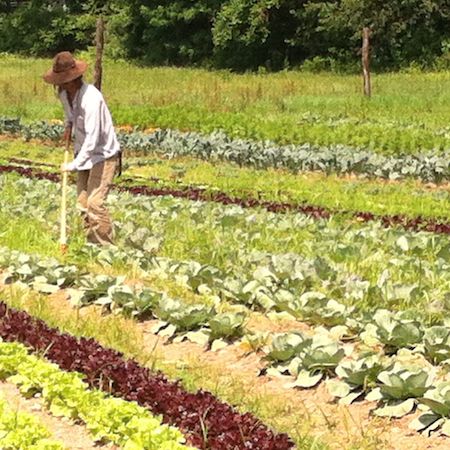 The Rockland Farm Alliance, a coalition of farmers, community groups and activists and elected officials, has been awarded a $5,000 Greenway Communities Grant from The Hudson River Valley Greenway to support their farmland expansion program.
"We are pleased to partner with the Town of Clarkstown, Upper Nyack, and the RFA as they work to expand their efforts to reimagine agriculture in Rockland County," says Mark Castiglione, Acting Executive Director of the Hudson River Valley Greenway. "By engaging local land owners and supporting local farming, the Rockland Farm Alliance Land Expansion Program will not only help to protect valuable open space resources, but it will also support the production of healthy local food."
The RFA will use these funds to identify properties for potential farming and partners to pursue these opportunities. Through education and outreach to local landowners, the RFA will help partners make their land ready for farming and will provide guidance on establishing farming operations.
"This is about getting more land into agriculture," says John McDowell, President and Chairman of the Board for the Rockland Farm Alliance. "To increase farmland in Rockland, the RFA is taking the lead on introducing different models of sustainable agriculture and providing guidance and aid in attaining new land and funding for newly launched farms." McDowell says they are working with towns and villages to evaluate their codes regarding open space to determine what land is still farmable. "When more land is put into production it positively effects the whole county," he says."
The RFA also works with private land owners to maintain existing farmland or create new spaces. "If private land owners have a genuine farming operation, they can keep their land as open space via an agricultural assessment tax break. This actually is a savings for towns and villages because they don't have to provide services that a housing development would demand." McDowell says the RFA is working with private landowners who prefer not to develop the properties.
The RFA's operates the Cropsey Farm as "Community Supported Agriculture" (CSA) where members purchase a share each year which entitles them to receive a portion of the farm's harvest. The 2014 CSA season begins on June 3 and continues through November 22. For a $750 full share, members receive about 8-10 pounds of produce each week depending upon the growing season and the weather. Members are responsible for showing up at the farm each week to pick up their share of freshly harvested produce. There are also volunteer work opportunities and free workshops for CSA members. To learn more about participating in the Rockland Farm Alliance's CSA, visit CropseyFarm.org.
"RFA is taking the lead on introducing different models of sustainable agriculture, and providing guidance in obtaining new land and funding opportunities for newly launched farms," says Town of Clarkstown Town Supervisor Alexander Gromack. "They employ unique strategies, such as serving as an "umbrella" to piece together small farms so that combined they meet NYS minimums for agricultural assessment. Our residents and the entire Rockland community has been very welcoming to the farm movement and are now hungry for locally produced foods."
See also: