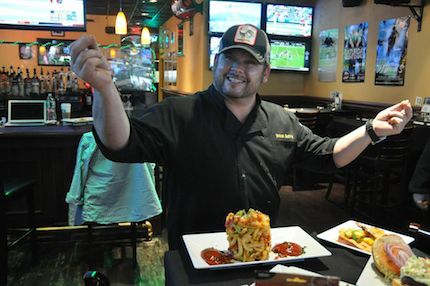 The Nyack Pour House got a celebrity makeover this week to benefit two local non-profits.
A new menu for the main street bar and restaurant, designed by celebrity chef  Brian Duffy, will be unveiled at a charity event on Friday from 7-10p. Duffy is a regular cast member of Spike TV's Bar Rescue. Proceeds from Duffy's menu makeover will benefit the Nyack Fire Department and the Friends of the Nyacks.
"The Pour House is a great example of forward thinking, innovative restaurants that I love," said Duffy. "The new menu, drinks and beers we have chosen will elevate The Pour House to a new level and will appeal to the hard-core foodie and casual diner alike."
Brian Duffy has been on the forefront of the gastropub movement and was one of the first chefs in America to elevate modest pub food to epicurean status by reinventing and revitalizing classic Irish pub fare as Corporate Executive Chef of Kildare's Irish Pub. With his "New Celtic" cuisine, he has created eclectic twists on traditional favorites that stimulate the palate and appeal to the soul. Duffy can be seen on Spike TV's Bar Rescue as one of Jon Taffer's team of experts. He has also appeared on DIY Network, HGTV, NBC, and Fine Living Network and annually on The Today Show's St. Patrick's Day Irish cook-off.
The Nyack Pour House is a 3,000+ square foot bar and grill located on Main Street in Nyack. Their new menu emphasizes  locally sourced meat, fresh local produce and new specialty drinks.
"Chef Duffy has done an incredible job with our menu and we look forward to introducing it to our loyal customers," said Ryan Spicer, co-owner of The Pour House. "Nyack is the Hudson Valley's premier destination for great food, fun and entertainment. Our goal is to help that image and attract new customers to Nyack," he said.