by Nate McCarthy
Nyack High School graduates Nate and Ben McCarthy, Anders Fleming and the late Jesse Yanko formed their band Regret the Hour before enrolling at Hunter College.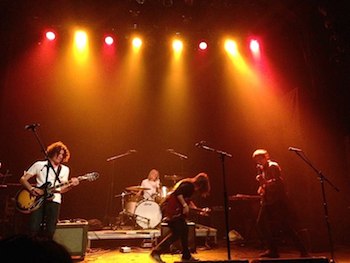 After living in New York City for the past six months, your ears habituate to the noise of traffic, of car horns, taxis, the screech of subway stations. Even in most parts of Nyack, you grow accustomed to the low, constant hum of the thruway.
Stepping out of the car in Woodstock, NY, at the home and studio of renowned producer/engineer D. James Goodwin, you are greeted by complete silence. For an engineer who spends long, drawn out days in the studio, the Catskill Mountains are an ideal place to rest one's ears. This is where we have chosen to record our next release.
The house is divided into two floors. Upstairs is the live room, control room, and kitchen. Downstairs, the living area: two bedrooms and a pantry which all double as isolation booths.
There are no clocks in the house. You lose track of time when working with Goodwin, and unlike your typical engineer, he encourages this.
In today's era of digital recording, where sound can be manipulated in endless ways after it has been recorded, Goodwin's sensibilities are both traditional and deviant.
He emphasizes getting the best possible sound for each instrument before recording begins, instead of using various software or digital effects to fix things in the mix, but at the same time, is always encouraging experimentation. In the words of prolific Brooklyn-based musician and composer Kaki King, Goodwin "has a real ear for all sounds I didn't know how to produce…and couldn't even really dream up."
After discussing and trying out different guitar, bass, and drum sounds, we began tracking in the early afternoon, and worked well past midnight.
To recreate the intensity of a live performance, everything was recorded live, including vocals, which would be scrapped and recorded on their own allotted day.
Despite long, tiring days of recording, we're excited to have new music to share soon.
With these new songs, there is bit more confidence present, more of our own voice as band, which is something we have struggled to find on previous recorded material, probably due largely to our different musical backgrounds and tastes. Anders Fleming (drums) comes from a tradition of Celtic rock/folk music, our current bass player Sam Oatts is a classically-trained trumpet player, and then there's my brother Ben and I, whose parents did irreparable damage to us by playing way too much Bob Dylan, Van Morrison, and Neil Young during our upbringing. The result are these songs.
Nyack High School graduate Nate McCarthy is the lead singer/rhythm guitarist for the  alternative-rock band Regret the Hour.
 See also: