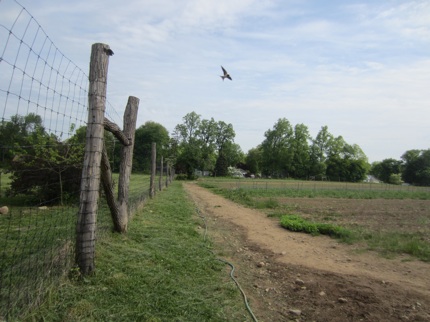 by Debbi Cracovia
As spring approaches, the folks from Rockland Farm Alliance (RFA) at Cropsey Community Farm (CCF)  are preparing for a new season of plowing and sharing.
Cropsey Community Farms in New City has offered a Community Support Agriculture (CSA) program since 2010. In exchange for labor, CSA shareholders would get access to organically grown crops. This year, only non-working shares will be available. "The CSA model used in the past just did not work for our area." Says Kerry Ann Morgan, Program and Administrative Manager. "The fifteen hour commitment was difficult for some to keep."
Shane Hardy, Head Farmer and Farm Manger, says that they are expanding from five to seven acres for the 2014-growing season.  "That means there will be more varities of produce.  There will be close to twenty different varieties of tomatoes, and ten types of peppers as well as other leafy greens," said Hardy. Cropsey will be adding many more organic heirloom seeds to their mixture this year as well.
The typical growing season is 25 weeks long running from June 3rd until November 22nd.  Pick up days are Tuesdays and Saturdays.
There are some 250 shares available this year, a larger number than previous years. It costs $750 for the season. The usual yield per share, per week is between ten to twelve pounds.
If fresh flowers make you happy, you can add a weekly Cut-Your-Own bouquet for an additional cost of $50 for a twelve to fifteen week season.  For $30 you can add Cut-Your-Own fresh herbs.  "The flower and herb shares are great for families with kids," Kerry Ann said. "Each week something new blooms."
To learn more about Community Support Agriculture (CSA) join the Cropsey team for a Q&A session on Tuesday march 4th, 6-7:30p at the New City Public Library, 22o, North Main Street.
See also: