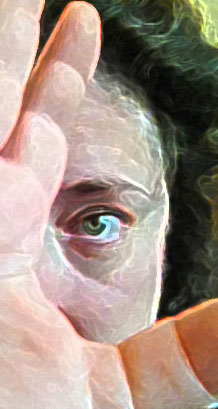 For over a century, our region has been home to extraordinary artists. Local Arts Index highlights the work of individuals who continue our community's rich creative legacy.
Meet surrealist Maxine Nodel.
How Did You Become an Artist?
I come from a family of painters, illustrators, calligraphers and musicians and began making art in various forms when I was two. I remember being inspired by the creative environment ubiquitously defining my childhood: the smell of turpentine and oil paints permeating throughout the house, artists and musicians coming and going- all of them making, sharing, talking about art and leaving me inspired to create.
From then on, my inspiration for making art evolved and I learned how to draw and paint; however; it wasn't until I was an adult when my personal artistic voice began to unfold from within.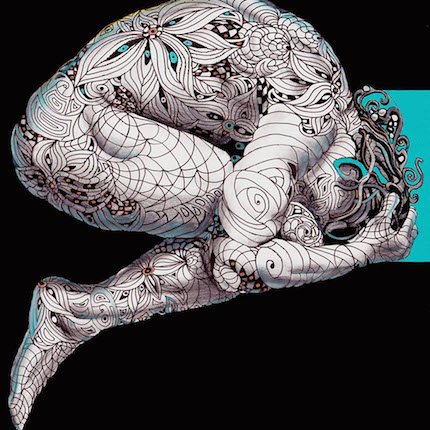 What kind of art do you make?
I create surrealistic designs and metamorphic narratives in a wide variety of media including ink, dye, pencil, pastel, watercolor, acrylic, and oil. I then work on various surfaces including canvas, Bristol board and paper, slate and wood.
In order to evoke more of a visceral response from the observer, I install some of my works inside shadow boxes to make the experience between observer and the art an even more intimate one.
What's Your Muse?
I see ethereal design and texture in everything macro and micro, internal and external. My imagery is inspired by art-in-nature or art-in-math design dynamics such as the Fibonacci sequence (Golden Rectangle), fractals, and the paradoxical Mobius strip. I am also inspired by the balanced beauty of Tibetin mandalas and Zen Buddhist meditation.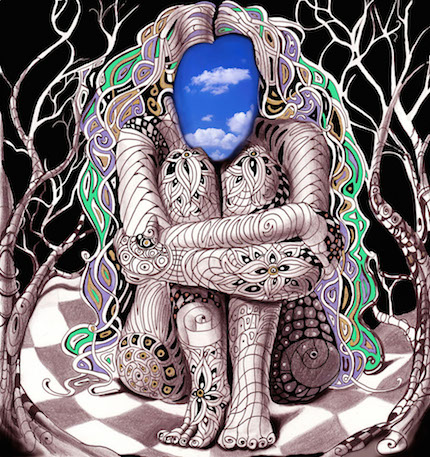 When I combine these artistic sensibilities with traditional artistic methods and then couple them with the beauty and pathos of the universal human condition, I experience a journeying towards inner and external truth.
What's Next?
I am currently working on a rendition of the seven deadly sins, as well as making larger pieces that focus on combining the human form and natural landscape with metamorphic design elements.
These pieces are being created on large paper and canvas in preparation for my one-person show, which will be held at the Catalyst Gallery in Beacon, New York during the month of June 2014. The opening reception will be held on Saturday, June 14 from 6-8:30p  at 137 Main St, Beacon.
Maxine is currently the artist member of the month at the Edward Hopper House Art Center at 82 North Broadway in Nyack.  Her work will be on display through March 31.
To see more of Maxine's work visit Maxinenodel.com
Local Arts Index is sponsored by Maria Luisa, 77 South Broadway and ML by Maria Luisa, 75 South Broadway, Nyack, NY