The Nyack Art Collective has a rythym section of events this First Friday, April 4, keeping the culture beat at over two dozen venues:
Beatnicks poets from suffern are on Main street again
the "flow beats" of For Vibration at the Gazeboo will encourage fearless self-expression
All are invited to dance the night away with Walk to the Beat at an after party at Casa del Sol.
For those that want a mellower melody:
The curator of "Painters and Paintings of Rockland County, NY: The Hopper Years (1882-1967)," Mark Waller, will give a gallery talk at the Edward Hopper House Art Center at 7p. A reception for the Hopper House Artist of the Month, Carole P. Kunstadt, will be held from 5-7p.
Learn the magic of mandala painting at Saffron with Jamie Gaviola. Enjoy some music and refreshments from 5:30-7pm
Here is a complete guide to First Friday April.
Main Street
The Franklin Antique Center – #142: Chris Machlin, Elaine Schloss
Cloud 9 – # 120: Christina Hernandez
Vincent's Ear-  #112: Lawrence Hultberg
Casa del Sol – #104: Lawrence Hultberg
Little Flower Shop –  #95 1/2: Louise Bryant
Harry's Burritos – #90: Tony Ziegler
p. ross boutique #89: David Rosenblum
Optical Shop of Nyack #86: Ed Kirkland
Johnny Cakes: #84: Peter Kramer
Temptations – #80 1/2: Tracy Kachtick-Anders
Starbucks – #80: Catherine (Cass) McVety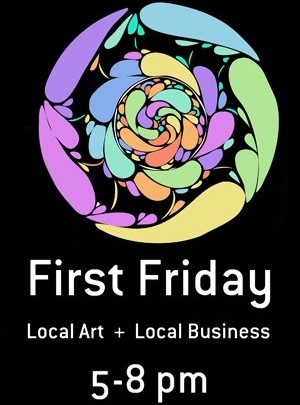 North Broadway
Edward Hopper House Art Center – #82: Carol Kunstadt
Bee Alive – #19: Lauren Randolph
Gena Lisa #23: Jane Coco Cowles
South Broadway
Chicilaterie – #6: Ken Burns
Sweet Spot – #11: Natalie O'Donnell, Tony Ziegler
Saffron-#14 : Jamie Gaviola
Art Café -#65: Rockland Living Museum Group Show
Pizza Bistro – #64: Dimitry Tchertkoff
ML by Maria Luisa – #75: Doris Shepherd Wiese
Amis Gallery  #79 1/2: Casey & Kori
Hudson Avenue Gagliardi Studio & Gallery – #39: Bobby Sherman