by Lee Corey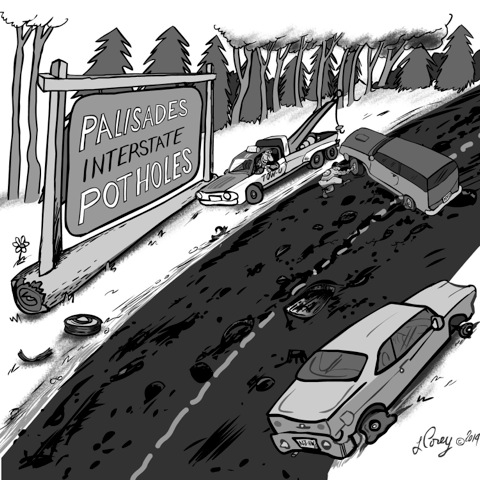 "It was worse than some Third World countries," said one driver after bouncing along the 11 miles of the Palisades Interstate Parkway from the GWB to the NYS border. However, it wasn't just any frustrated, battered driver: it was New Jersey Director of Transportation James Simpson. "I could not believe that there was a highway in New Jersey that was as bad as it was."
There's no truth to the rumor that the Christie administration was contemplating renaming the PIP instead of repaving it. But just in case they should consider this option, cartoonist Lee Corey has a suggestion.
Yesterday, drivers got some good news about the roadway along the Hudson: Despite previous protestations that NJ didn't have the money to pave the PIP, Simpson now says the state will come up with the $20 million necessary to pave the New Jersey section of the Palisades Interstate Parkway. New York repaved it's part of the PIP nine years ago; it's been 18 years since New Jersey resurfaced it's stretch of the parkway.
Lee Corey is the owner of CoreyToons, a small digital animation and design studio whose production credits including Nickelodeon, Cartoon Network and Disney TV. Lee is a long time resident of Rockland County and a part-time animation instructor at Pratt Institute.
See also: