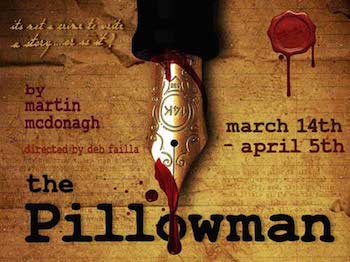 by Ashley Tedino
Now that the brutally cold, snowy winter is finally winding down, it's time to get a sitter for the kids and see some live theatre. Check out the current season at Elmwood Playhouse in Nyack, Shades Repertory Theater in Haverstraw and The Antrim Playhouse in Wesley Hills as well as scheduled performances in Westchester and Bergen counties, too.
The Pillowman: Elmwood Playhouse
March 14- April 5 2014
Fridays and Saturdays 8p; Sundays 2p
"It's not a crime to write a story .. or is it?" In this case, a writer of grisly stories about strange violence against children is arrested and questioned because his work imitates recent child murders. This play is not suitable for all audiences or children. Tickets are $22 for adults, $19 for seniors and students except Saturday. Buy tickets online or call (845) 353-1313. Elmwood Playhouse is located at 10 Park St, Nyack, NY 10960.
Dirty Paki Lingerie: Shades Repertory Theater
March 7 – 8 at 8 pm
Sex, religion and politics collide as six Pakistani-American Muslim women air their dirty lingerie.
"In a time when Muslims in America are constantly in the news for all the wrong reasons, I wanted to create a play to show that the Muslim-American community is not a monolith in thought or practice," says playwright Aizzah Fatima. Dirty Paki Lingerie first premiered in NYC at the Midtown International Theater Festival in 2011 where it had a sold out run. The play has had sold out performances in Toronto, at the Edinburgh Fringe Festival and most recently in Pakistan.
Advanced tickets are $12; students and seniors are $12; All tix are $15 on the night of the performance. Call 845 675 8044 or email shadesrepertory@yahoo.com for ticket info. The Shades Repertory Theater is located at 64 New Main Street in Haverstraw, NY.
The Purpose Project: ArtsRock at Elmwood Playhouse
Sunday, March 16, 7p and 9p
Elmwood Playhouse, 10 Park St, Nyack, NY 10960
In this one-woman theater piece, Elizabeth van Meter copes with a life-altering tragedy when she comes upon a photograph of Thao, a Vietnamese woman born with life-threatening birth defects as a result of Agent Orange. Video and live performance combine to tell the true story of these two unlikely friends and their remarkable collaboration in this off-Broadway hit production. Tickets are $30. Elmwood Playhouse is located at 10 Park St in Nyack.
You Can't Take It With You: The Antrim Players
March 14-16, 21-23, 28-30 2014 & April 3-5 2014
Fridays and Saturdays 8p; Sundays 2p
It's the typical girl meets boy, they fall in love, and then both families meet comedy. Alice Sycamore who you can tell is sweet by just her name falls for Tony Kirby who is a banker's son. Alice invites both families together to get their blessings to the marriage but Alice's family may be too out there for Tony's snooty parents. Tickets are $22 for adults, $20 for seniors and $15 for students. Buy tickets online or call the box office at (845) 354-9503.  The Antrim Playhouse is located at  15 Spook Rock Rd. in Wesley Hills, NY 10901.
RagTime: The Musical at Westchester Broadway Theatre
Now through May 4 2014
Three families are the main focus in this musical. Watch as they tackle challenges of wealth and poverty, freedom and prejudice, hope and despair, and what it means to live at the turn of the century America. Dinner and show tickets range between $54 to $80 (+ tax). You can check available show times and order tickets online or call the box office at (914) 592-2222. The Westchester Broadway Theatre is located at 1 Broadway Plaza in Elmsford, NY 10523.
To Kill a Mockingbird: Bergen County Players Inc.
March 22 – April 12 2014
Fridays and Saturdays 8p; Sundays 2p
This Pulitzer Prize- winning book comes to life in Bergen County's own backyard. The story takes place during the Great Depression in Alabama. We meet Atticus Finch who has two young white children. Finch has to defend a black man who is framed for a crime he said that he never committed. While watching this play directed by Bunny Mateosian, we will have time to look at America's past and how far we have come. Tickets are $20 on Friday and Saturday nights and $16 on Sunday afternoons. Buy tickets online or call the box office at (201) 261-4200. The Bergen County Players are located at 298 Kinderkamack Road in Oradell, NJ.
The Legacy: The Garage Theatre Group
March 6-9 2014
Thursday-Saturday 8p; Sunday 3p
Martin has been enjoying his life with his partner after walking out of his family forty years ago. He has not seen his son since then until he emerges at his father's doorstep asking for a favor. Come and enjoy this show which deals with family secrets from the past. Tickets are $37 for adults, $32 for seniors, and $15 for students with ID. Buy tickets online at  GarageTheatreGroup.TicketLeap.com. The Becton Theatre is located on the Farleigh Dickinson University Campus at 960 River Rd. Teaneck, NJ.
See also: